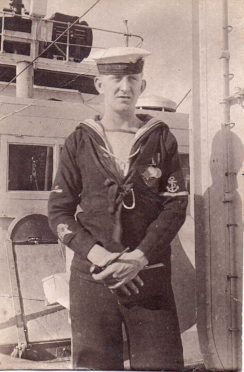 A north-east navy man was among the guard of honour that escorted the Unknown Soldier to his final resting place at Westminster Abbey, his daughter has revealed.
Chosen to represent the many unnamed dead, the soldier was carried from a battlefield in Boulogne, France in November, 1920 to London to be laid to rest among kings and statesmen.
And with the Armistice Day centenary just weeks way, Anne-Marie Coleman, of Inverurie, has revealed her father George Rowe was among the veterans who escorted him.
Mr Rowe served in the Royal Navy during the First World War and the Merchant Navy during the Second World War.
His daughter, a member of  the congregation at Inverurie West Parish Church, said her dad died when she was just 14-years-old.
She said: "Although he didn't talk specifically about his experiences to me, I know that he was very proud of his service with the British armed forces.
"It was only after my mother died that I found a page, torn from Shell's 'Mirage' magazine and dated November 1933, that told of my dad's privilege in being part of the guard of honour.
"This, together with his medals, are now my prized possessions, and his intense viewing of the Armistice parades on our tiny black and white TV now make more sense to me."
Mr Rowe died in 1964.
Mrs Coleman has told her father's story as the church prepares to mark the centenary through the There but Not There project.
The church has been awarded eight perspex soldier silhouettes as part of the scheme, which has been funded by the Armed Forces Covenant Fund Trust.
They will be set up within the church sanctuary on Armistice Day on November 11 and in the downstairs cafe at different times.
The congregation is also hosting a reflective event entitled 'Missing Youth', a nod  to Scotland's Year of Young People.
Visitors are invited to drop in and explore the various artefacts, stories and images on display.
The church will be open to the public from 11.30pm until 4pm on November 11.
Tea, coffee, soup and home bakes will be on offer in the café, with funds raised going to Poppy Scotland.