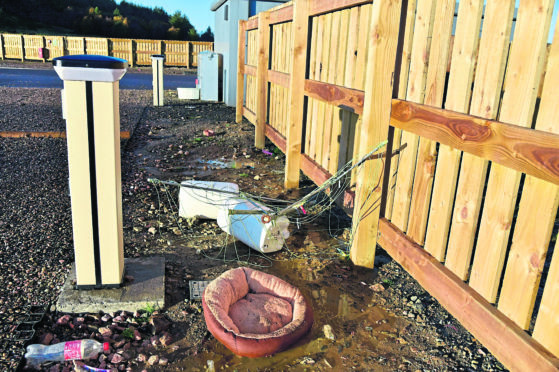 A community living next to a travellers' stop-over site have claimed their fears have come true after bags of rubbish were left behind.
Aikey Brae, near Old Deer, is a council-run development that allows travellers to stay for a maximum of two weeks at a time.
The site – which locals strongly opposed – opened its first occupants in March, and has now closed for the season.
But now neighbours have claimed their concerns have been proven, as bags of rubbish, industrial containers and unwanted toys have been dumped.
One woman said the items had been thrown over a fence into land outside the site in the weeks leading up to its closure in October.
She said it had been reported to Aberdeenshire Council more than a week ago, but was still there.
She said: "It's unbelievable, you can see the mess when you drive past and I was told the warden had walked around to check the area.
"They said they would get on it right away but 10 days later it's still there.
"It is taxpayers' money they spent to put that site up.
"This is just what the settled community warned them about and they are just leaving a mess.
"There were dolls prams, containers and barrels.
"The site has a recycling bin and they have a lot of other services there too.
"They had everything provided, but they still chose to put it all over the fence."
Local councillor Jim Ingram said he has been keeping an eye on the site himself.
He said: "When I was told about about this 10 days ago I went to have a look.
"There's some rubbish been left there and there was a fridge and other heavy goods.
"I spoke to the liaison officer who said she would arrange for it to be taken away but since then I know there have been reports of bins blowing over in the winds, so some of the mess may be due to that.
"I've had some assurance this will be dealt with but the type of rubbish I saw on my visit wasn't from bins blowing over and it sounds like this isn't either.
"Aikey Brae still concerns me so I keep an eye on it and want to ensure it won't return deteriorate to the condition it was in before."
An Aberdeenshire Council spokesman said: "We are aware of some fly-tipping and litter around the Aikey Brae site and recent high winds have added to the issue.
"We have been attempting to clean up the loose litter and are making arrangements for the larger items to be removed."