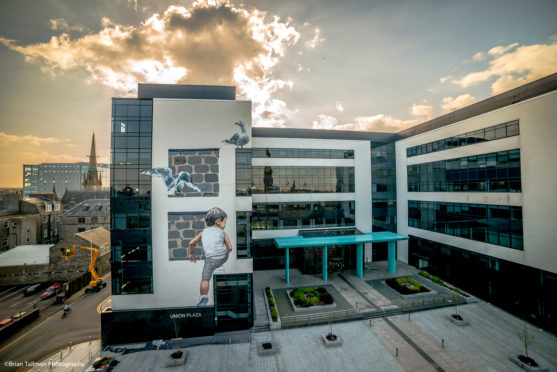 Organisers of Aberdeen's celebrated street art festival have issued a 'call for walls' for next year's event.
Brought to the city by Aberdeen Inspired and Aberdeen City Council, Nuart returns next year from April 18 to 21.
The organisers are now looking to pinpoint wall locations for the festival to use next year and the project team is eager to hear from business owners that would like to be involved.
They hope to find a wealth of external walls for visiting artists to create stunning new works upon.
They must be in good condition, within the city centre area, visible to the public and must not be granite or listed.
A review process will be carried out on all submitted walls to assess eligibility.
Aberdeen Inspired chief executive Adrian Watson said: "Nuart Aberdeen has left an incredible legacy in our city already and we can't wait to bring it back next year.
"Each year we appeal to property owners to become a part of this artistic movement through putting forward potential walls for our acclaimed artists to make their own during the festival."
Craig Stevenson, Bon Accord Centre manager, said: "We were delighted with the opportunity to be part of the Nuart Aberdeen festival through the piece of art created by Bortusk Leer within the Rooftop Garden.
"It was a great use of an unused wall space and attracted thousands of people to this area through both the walking tours and overall excitement surrounding the art. "
To submit a wall, email callforwalls@aberdeeninspired.com along with a photo of the wall/s, its address and the approximate dimensions of the wall.