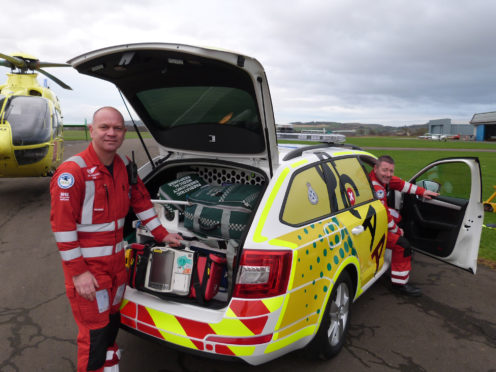 From satellite telephones to community resilience cupboards, communities across the north of Scotland will benefit from funding to help them prepare for emergencies.
Scottish and Southern Electricity Networks (SSEN) Resilient Communities Fund announced funding of more than £187,000 to 36 groups for projects to create safer rural and coastal communities, .
Community groups and charities from Aberdeenshire, Argyll and Bute, Highlands and Islands, Tayside, Stirling, Orkney and the Western Isles have all received awards from the fund.
---
>> Keep up to date with the latest news with The P&J newsletter
---
Among the awards were three major projects which will benefit the regions in the north.
Neighbourhood Watch Scotland has been awarded £12,000 to bring the benefits and values of the neighbourhood watch network to Scotland's more remote communities through Rural Watch Scotland.
Scottish Flood Forum receives £10,500 to fund its Community Flood Alerting Engagement Project. This involves purchasing flood alerting systems, combined with Scottish Flood Forum on-site support to build resilience in three rural communities.
Scotland's Charity Air Ambulance is receiving £8,746 to purchase new equipment for their rapid response service to help save lives of those suffering an out-of-hospital cardiac arrest.
Lisa Doogan, director of customer relationship management for SSEN, said: "At SSEN, we work all year round to ensure we're prepared for the high winds, snow, flooding and lightning that our weather can bring and one of our key aims is to help our customers and communities prepare for these possibilities and strengthen their own resilience too.
"It's great to see such a diverse list of groups benefiting from the fund this time round, from charities operating across the diverse landscape of our network area in the north of Scotland, to local community groups in our remote and rural islands where our funding will hopefully make a huge difference."
Brian Connel,manager at Neighbourhood Watch Scotland, added: "We greatly appreciate the funding provided by SSEN through the Resilient Communities Fund.
"This £12,000 award will match fund the further expansion of our Neighbourhood and Rural Watch Networks. These networks provide a mechanism to establish a community led and collective approach to a wide range of issues and to assist us and other service providers to 'get the right information to the right people at the right time'.
"These two principles complement each other and allow communities to make shared and informed decisions about issues affecting them. Whilst receiving the funding required is great we also welcome the opportunity to work in partnership with SSEN."
Katie Wylie, trusts and legacies officer at Scotland's Charity Air Ambulance, said: "Scotland's Charity Air Ambulance is delighted to receive funding from SSEN to support the costs towards life-saving CPR equipment.
"This equipment will be used in our Rapid Response Vehicle which responds to time-critical emergencies in the rural communities around our base in Scone.
"The funding allowed us to purchase equipment which will make a real difference to patients suffering an out-of-hospital cardiac arrest."
Alongside the major funding, smaller amounts were provided to help smaller projects.
Banchory Community Council will receive £250 to help create a community resilience plan, providing a lockable cabinet for equipment. Chairwoman Mary Lennox said: "We at obviously happy to receive this money. It is a community effort and we hope we will never need to put the plan into action, but if we need to, we are prepared."
Iain Cursiter, the chairman of Papa Westray Community Council welcomed £1,030 funding for a satellite telephone. He said: "In an emergency last year, no phone signal and no power on the island made us feel very isolated indeed, and this money will go towards providing a means of communication with the outside world when we need it most. I hope we never need it, but if we do – it is there for us."
Norman Kerr OBE, chairman of the SSEN Resilient Communities Fund, said: "The breadth of applications ably demonstrates that each and every community is unique and that the fund is a superb way of working with local people on local initiatives."