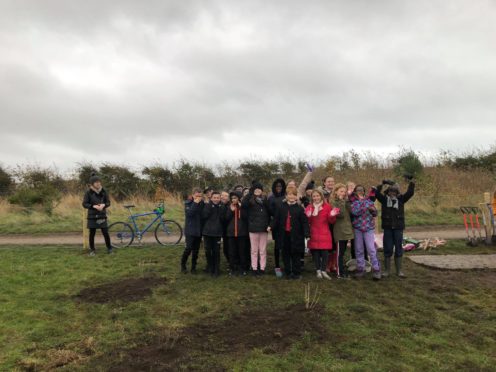 A sculpture in tribute to those killed during World War I was unveiled in Portlethen yesterday.
Members of the Portlethen Moss Conservation Group (PMCG) enlisted the help of local schoolchildren to create the memorial, which has been placed in what will become a community orchard.
Created by north-east sculptor David Roberts, the wooden piece depicts a soldier holding a red poppy.
He said: "I am honoured to be a part of this project.
"It is special, as so many gave up so much 100 years ago."
Children from Portlethen, Hillside and Fishermoss primaries planted 25 fruit trees to signify the 25 Portlethen men who lost their lives during WWI and they will form part of an edible trail through Portlethen Moss.
Denise Martin, from the group, oversaw the work of the children, said:  "The pupils from all three primary schools worked really hard and were very enthusiastic.
"They were all aware that they were planting the orchard to honour the brave men who lost their lives in the First World War."
Representatives from the Gordon Highlanders Museum attended the unveiling yesterday, after being led into the woodland by a piper.