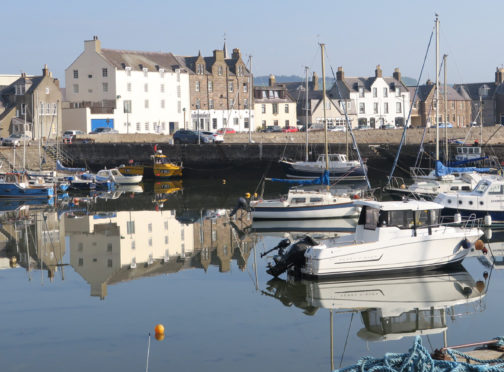 A north-east castle is to fly the US flag for the first time as part of a new twinning agreement linking towns in two different countries.
Stonehaven and the American town of Athens in Alabama have announced plans to forge transatlantic links.
The agreement will be formalised on Saturday with an announcement from the mayor of Athens, Ronnie Marks, and will coincide with celebrations marking the 200th anniversary of the town.
Meanwhile in the north-east, the Stonehaven and North East Scotland Twinning Group (SNET) will take part in celebrations at Castle Fraser, which will fly both the Alabama state flag and the stars and stripes from its turrets.
The connection between the towns was made when Athens State University professor Debra Baird researched her family lineage.
---
>> Keep up to date with the latest news with The P&J newsletter
---
In doing so, she befriended Phil Mills-Bishop, who leads SNET, and co-chair Richard Holman-Baird who is also chieftain of Clan Baird.
Athens City Schools and Athens State University have agreed to take an active part in the twinning project.
The partnership will allow students from Alabama to spend time in Scotland and for Scottish students to visit Alabama.
Local schools will be encouraged to engage in web chats with each other so students can learn about life on the other side of the Atlantic.
Athens City Schools superintendent Trey Holladay said: "This is an excellent opportunity for greater connection with children in the world – direct ties are so important in understanding each other."
And Mr Mills-Bishop added: "Modern twinning is more than just a civic connection, but includes educational exchanges, tourist flows, reciprocal sporting events, business opportunities and greater understanding between communities.
"In an increasingly unstable world, that is no bad thing."
He added: "Stonehaven can act as a gateway into other areas in the north-east – Castle Fraser is an example of that."
Mr Mills-Bishop and Mr Baird will take part in Saturday's ceremony in Athens via Skype, with delegates from Athens set to visit the north-east next summer.
Mr Marks said: "I think it's great for our community and a great opportunity.
"To be a sister city and work with others on a national and international basis, in order to showcase our communities in a spirit of friendship, is helpful to all of us."
Stonehaven joined forces with Acheres in France earlier this year, and is considering twinning arrangements with towns in Germany, Portugal and Japan.