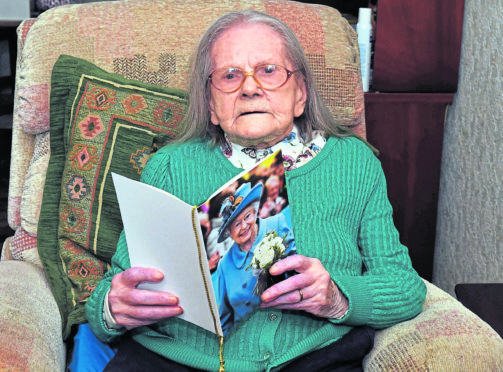 As she celebrated her 100th birthday, Olive McEwan put her longevity down to abstaining from alcohol and smoking and staying active.
Gartly-born Mrs McEwan marked her big day with a meal for family and friends at home in Stonehaven yesterday.
A steady stream of visitors came and went throughout the day to help her celebrate her century.
Her postie, meanwhile, brought birthday cards from the Queen and Secretary of State Esther McVey.
Born two days after the end of the First World War – when Lloyd George was prime minister and the poems of Siegfried Sassoon had just been published – life in the north-east has changed beyond recognition in Mrs McEwan's lifetime.
In that time the population of Aberdeen has doubled and the average house price has rocketed from £10,000 to £200,000.
A primary school teacher at schools including Sunnybank, Kaimhill and Drumgarth, Mrs McEwan was a fire watcher during the Second World War, scanning the north-east landscape for fires started by bombs dropped from the sky by the Luftwaffe.
She explained how during air raids she and a colleague used to go to the staff room and block the door with a chair, rather than go to the air raid shelter.
It was a dramatic time in Aberdeen, which was the most bombed city in Scotland during the war, and some of the children she taught were killed.
Away from her work and war service, Mrs McEwan was a keen pianist and used to play the church organ at Strachan Church as a 12-year-old.
She met husband Thomas in 1948 while holidaying in Orkney, where he was based as a soldier, and the couple had two children, who gave Mrs McEwan one grandchild and two great-grandchildren.
The couple spent their long retirement going on road trips around Aberdeenshire.
Her son Gordon said: "She's remarkable really. She's the only one of her generation still here."