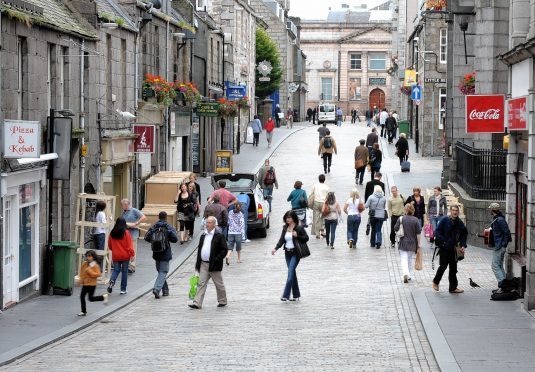 A new policy which will allow Aberdeen pubs to open until 3am on weekends have been hailed as "trailblazing".
Under the new policy, approved by the city's licensing board yesterday, venues can now apply to open for an extra hour – which is hoped to drive more people into the beleaguered city centre.
Prominent licensing solicitors disagreed over what the policy could mean for the city's future with laywer Stephen McGowan describing it as "trailblazing".
But the idea has come under heavy criticism from the city's nightclub industry with fear raised that more will close due to the extra competition.
To gain the extended opening the bars would have to meet a number of criteria
However, the previous policy of needing "significant entertainment" for 3am closing has been dropped.
Venues will be able to apply for dispensation to sell alcohol later for special events such as the World Cup, boxing fights and American football.
Last week the council's co-leader Douglas Lumsden waded into the growing row saying he felt moving forward with the policy would be "a mistake".
---
>> Keep up to date with the latest news with The P&J newsletter
---
Yesterday board member Alan Donnelly, a Conservative councillor, said: "In the last year we have had four or five nightclubs close down, the night time economy is significant for the city and should be protected."
But other committee members said it wasn't for them to dictate the venues people chose to spend their money adding that clubbing was becoming less popular.
And committee convener Marie Boulton had stern words for both the council co-leader's and Mr Donnelly's intervention.
She said: "As a Conservative I would have thought you would embrace market conditions and I'm disappointed about comments from elected members not on this board who do not appreciate how much we have consulted with the trade about the policy."
Nicola Johnston, night time economy manager at city centre business body Aberdeen Inspired, said: "This decision is going to give businesses within the city centre the option to diversify their offering.
"It will be an incremental process but one with positive benefits, giving more varied options for the public.
"Our city centre is changing and this decision will play a part in enhancing potential for businesses, while also keeping pace with developments and growth within the city."
The custodian of an Aberdeen bar and live music venue said last night that nightclubs shouldn't fear extra competition.
Craig Adams, of Krakatoa on Trinity Quay, operates a "hybrid" venue where there is also live music and a dance floor allowing a 3am closing time.
He said: "I think in the end the market will sort it all out.
"There are costs associated with opening later and pubs will have to see whether the extra hour would be worth the cost. I think a lot won't bother.
"Everyone has been hit hard by the oil downturn but I don't think businesses should be protected from what the market wants."