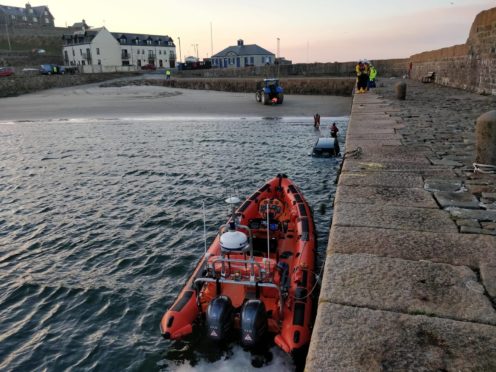 Fishermen leapt into Banff Harbour at the weekend to rescue an elderly woman whose car had plunged into the water.
As the North Sea lapped around the vehicle with its stricken driver inside the group sprung into action.
The Skoda Yeti was gradually submerging in the water but the team soon released the casualty and dragged her to safety.
---
>> Keep up to date with the latest news with The P&J newsletter
---
The quick-thinking group were not finished, however, as they also pulled the car to the side of the harbour's north pier and tied it in place.
Last night they were hailed for having averted a potential tragedy.
It is understood the woman's car entered the water via the slipway but the cause of the accident is not known.
Emergency services, including the RNLI Macduff, local Coastguard and firefighters all attended shortly after 2pm on Saturday.
The elderly woman, who was conscious at the time, was taken by police to Chalmers Hospital as a precautionary measure but though shaken by her ordeal is thought to have been otherwise unhurt.
There were no other casualties.
The coastguard arranged for the car to be towed from the water and it was subsequently removed by a local garage.
Councillor Glen Reynolds said: "It is a testament to the vigilance of many people and the emergency services that this incident did not end in a tragedy.
"Our thoughts are obviously with the lady involved. We do not know the full context to what has happened here.
"While it was a terrible situation, this occurrence is a good example of being prepared."
Sources said there had been no petrol or diesel contamination of the harbour water and no threat to navigation or vessel safety.
A police spokeswoman said: "The alarm was raised at 2.10pm on Saturday, with officers attending following reports of a woman having driven into the harbour at Banff.
"We ensured the woman was safe and took her to Chalmers Hospital in Banff as a precaution. Officers then stayed on scene to ensure the vehicle was safely removed from the harbour."
RNLI Macduff added: "On arrival at Banff our volunteer crew found a car in the water and were told that the occupant was safely out of the vehicle.
"The crew checked the vehicle to make sure it was empty and then stood by as members of HM Coastguard Moray removed it from the harbour with the assistance of a tractor."
Information about the incident was reported to the Marine Accident Investigation Branch by the harbourmaster.