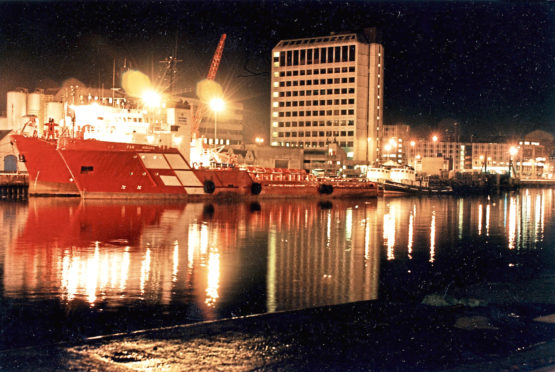 Shocking new data has revealed 13 Aberdeen locations with illegal levels of toxic and potentially deadly Nitrogen Dioxide pollution.
The city has long since failed to meet European Air Quality Directive (EAQD) deadlines for reducing emission levels, which were due to have been met in 2010.
And though there have been improvements – and a long term masterplan is being taken forward by the council – campaigners believe city residents are at risk of lasting damage.
---
---
Later this month, they will take to the city's streets in protest at the speed of change, led by Aberdeen Cycle Forum and Friends of the Earth Scotland.
The latest figures, contained within Aberdeen City Council's Air Quality Progress Report 2018, shows that over the course of a year some areas are blighted by an have an average of up to 48 microgrammes of the gas per cubic metre.
The EAQD set a limit for NO2 of 40 microgrammes per cubic metre, with the deadline for compliance initially to have been January 1, 2010.
Last night environmental charity Friends of the Earth Scotland called on the council to speed up the introduction of controversial London-style Low Emission Zones (LEZ) into the city.
These would work by potentially restricting certain types of vehicles in some areas, charging them for entry or completely banning drivers from the zones.
The Scottish Government has said Aberdeen and three other cities will have LEZs in operation by 2020.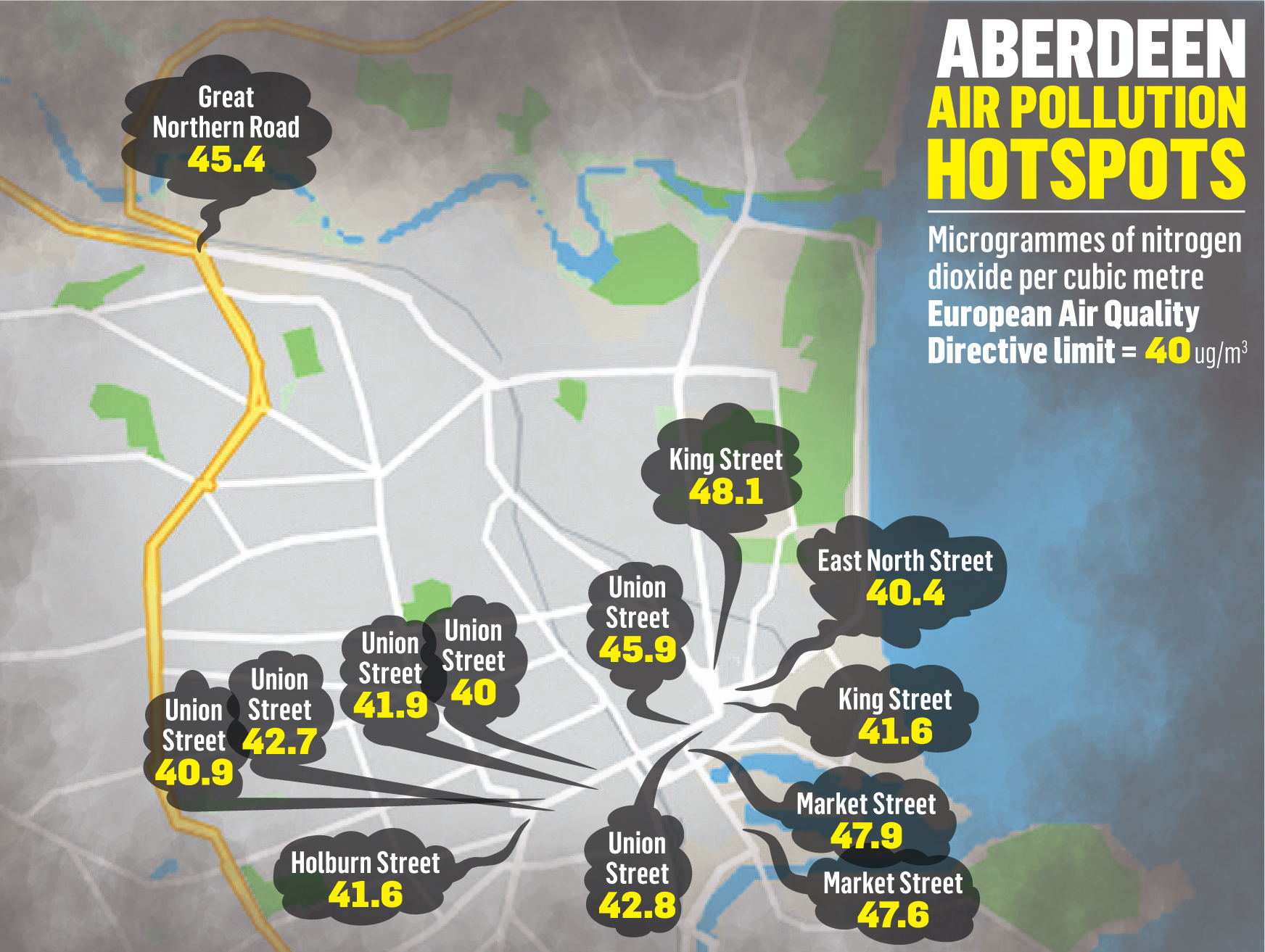 Glasgow's LEZ will commence on December 31 but will only initially apply to 20% of buses travelling through the city centre
While air quality has improved in the Granite City in recent years, the charity has criticised Aberdeen Council for not making enough progress on their own zone.
Friends of the Earth Aberdeen coordinator Gregor McAbery said: "These worrying figures demonstrate the severity and the scale of Aberdeen's largely traffic related air pollution problems.
"The city centre is comprehensively failing to meet legal standards and this air pollution is damaging all of our health and shortening lives.
"I hope the council will retain the focus to bring forward and enforce an effective city centre wide low emissions zone that includes key routes in and around the city centre.
"It should start with large vehicles like buses and trucks, but must roll out incrementally over a few years to eventually cover all vehicles including cars."
The charity's air pollution campaigner Gavin Thomson added: "Air pollution on Scottish streets causes 2,500 early deaths each year.
"Toxic air from traffic in Aberdeen particularly endangers children, the elderly and those who are already suffering ill health.
"Air pollution where people live and work is causing damage to health every day and the Council needs to act swiftly to cut illegal pollution levels.
"People in Aberdeen need to know that the council is working on plans to clean up the city's pollution problems through a Low Emission Zone.
"These zones, which are common in European cities, work by keeping the most polluting vehicles out of the most polluted places to protect the public's health.
"Aberdeen's LEZ must be ambitious in scope, set out a clear timetable for when different types of vehicles will be included and be communicated to the public and business so they can plan ahead."
The charity has joined forces with the Aberdeen Cycle Forum to hold a protest outside Marks and Spencer on Sunday November 25, between noon and 2pm, to highlight the issue.
Rachel Martin, of Aberdeen Cycle Forum, said: "Air pollution is a growing problem and we are only just beginning to understand the effect that this pollution has on people's health.
"We wanted to find a way to put this higher on the political agenda and we thought a protest might be a good way to highlight it.
"While we welcome some of the steps the council are taking we want the action to come faster."
She added: "Aberdeen is a fantastic place to live but pollution from motor vehicles is damaging our health. We want our city to be a place where everyone can breathe clean air and we believe this will make it a more appealing place to live, visit, and do business.
"We chose St Nicholas Street because it is near two pollution hotspots where thousands of people are exposed to toxic air every day. Aberdonians are rightly concerned about the effects of pollution on their health and the health of their families and we want the council to take urgent action. "
"Everyone is welcome to come along, say hello, and find out what they can do to tackle air pollution in our city."
The dangers of nitrogen dioxide
Nitrogen Dioxide, one of a group of gases called nitrogen oxides, is poisonous gas caused by burning of fossil fuels in car engines.
Exposure to NO2 is known to be linked to increased mortality and respiratory problems and studies suggest nitrogen dioxide also inflames the lining of the lung and reduces immunity to lung infections such as bronchitis.
The gas is estimated to be responsible for about 50% of total emissions of nitrogen oxides, which means that nitrogen dioxide levels are highest close to busy roads and in large urban areas.
Gas boilers and cigarette smoke in buildings are also a source of nitrogen oxides.
The most common outcomes from prolonged exposure are respiratory symptoms such as shortness of breath and cough.
Studies also suggest that the health effects are more pronounced in people with asthma compared to healthy individuals.
Nitrogen dioxide also reacts with hydrocarbons in the presence of sunlight to create ozone and contributes to the formation of particles.
A report published in February 2016 by the Royal College of Physicians and the Royal College of Paediatrics and Child Health revealed that 40,000 deaths were attributable to exposure to outdoor air pollution each year across the UK, much higher than previous official estimates.
Based on this research, Friends of the Earth Scotland calculates that this equates to between 2,500 and 3,500 deaths each year in Scotland.
What they are going to do about it
The city council's 25 year masterplan for the city centre includes several measures to reduce pollution.
They have already enjoyed significant success, with the levels of potentially deadly gasses reducing steadily since 2012.
More pedestrianisation projects like Broad Street are envisaged for the city centre – including the Langstane area – while the council is also backing the use of hydrogen buses to encourage more use of public transport.
Efforts to improve walking routes and the Haudagain triangle improvement project – hopefully removing a notorious bottleneck – will also play their part.
Perhaps the single biggest improvement, however, is expected to be delivered by the opening of the long-awaited £750 million AWPR.
The bypass should remove a significant amount of traffic from Union Street and other major city centre routes – high polluting industrial traffic like lorries in particular.
Controversial London-style Low Emission Zones (LEZ) are also on the agenda, with the possibility that motorists may have to pay to drive in certain areas.
But a council report in January said the authority may not have to introduced them in Aberdeen, if ambitious hydrogen targets can be met over the next two years.
And in a sign of improvement, it emerged in January that the Granite City's most polluted streets had slipped from Friends of the Earth Scotland's (FoES) list of the country's most toxic routes.
In previous years, Union Street, Wellington Road and King Street had all been found to be breaching standards on air quality.
Last year FoES ranked Union Street as the third-worst in Scotland for nitrogen dioxide, which has been linked to asthma and other respiratory problems.
King Street was 2016's fourth-worst offender for particulate matter of soot, smoke and dust, with 19mcg.
However the latest figures show this has dropped to 44th place with 12mcg.
But critics have said the changes are not coming fast enough.
In October, health experts said visitors to an Aberdeen medical centre are being forced to breathe "toxic air" each time they arrive for treatment.
The Aberdeen Community Health and Care Village cost more than £15 million to build and opened on Frederick Street, just off King Street, in 2014.
But visitors to the site have now been warned their health is at risk from the surrounding air, which breaches pollution limits.
The findings were revealed as part of a study undertaken by the British Lung Foundation and Cambridge Environmental Research Consultants.