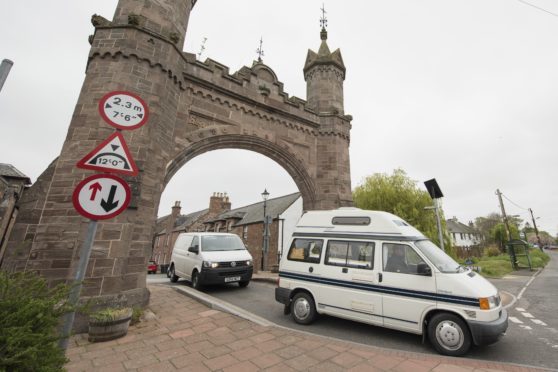 Politicians have hailed the return of trade and business to an Aberdeenshire community blighted by limited access as repairs were made to a historic road arch.
The category B-listed Fettercairn Arch underwent repairs in 2015 after years of being struck by oversized vehicles.
Unfortunately, an unintended side effect was the restriction of visibility for motorists driving beneath the arch, causing traffic to bypass the village.
Local businesses had claimed the traffic calming measures were putting their livelihoods at risk with a "catastrophic" decline in revenue as people avoided the route.
The structure has now been realigned, allowing for a smoother passage of traffic and combating the undulation that made it difficult for drivers to see cars approaching from the opposite direction.
The manager of the Fettery Shop in the village, who didn't wish to give her name, said: "I'm confident this will improve footfall in the village.
"The more traffic that comes through the village, the better it will be for all local businesses.
"We really weren't happy when the previous work was done, and it has been like that for a long time.
"It caused a real downturn in footfall.
"It stopped even local people using the road under the arch, never mind people coming from outside.
"People would take a detour right past the village."
---
---
Mearns councillors George Carr and Jeff Hutchison praised the remedial work, and noted that local businesses have also welcomed improvements to the landmark.
Mr Carr said: "We have talked to local business and they are thrilled with the improvements.
"Local trade and business is returning to the village which, because of the awful traffic layout under the arch, was bypassing it.
"I also suggested a local consultation exercise which was instrumental in getting these improvements right, and I would also like to pay tribute to former councillor Dave Stewart, who in the last council helped us push for these improvements."
Mr Hutchison also expressed his thanks to council officers who helped.
He said: "They sat down with us and on the back of the local consultation tabled various options for us to consider.
"There are still planters to be placed, but these improvements have secured the integrity of the arch.
"At the area committee, we requested that the vegetation that was growing out of the masonry was also removed.
"Once the finials are replaced on top of the towers, the job will be complete."
Local MSP Liam Kerr added: "This featured in every meeting I held in Fettercairn and I know that locals will endorse the comments of the councillors.
"I add my thanks to all those who have worked so hard to get this done."
The Fettercairn Arch was built in 1864 to commemorate the visit of Queen Victoria and Prince Albert to the village in 1861.