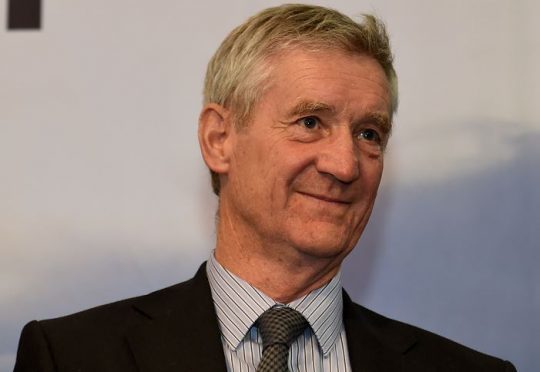 A north-east MSP has said he hopes a "line can be drawn" after he was cleared of financial impropriety by a standards watchdog following a lobbying row.
Peter Chapman quit the Tory frontbench in May after it emerged he had tried to sway Aberdeenshire councillors to back the ANM Group's Thainstone expansion.
It came after a voicemail was leaked in which he was heard attempting to persuade local members.
The former rural affairs spokesman, who has 50,000 fixed value shares in the co-operative, apologised and referred himself to a standards watchdog for an "honest mistake".
It then emerged the MSP had also approached council planning officers via one of his staff to discuss the plans and a further complaint was made to the Commissioner for Ethical Standards in Public Life.
The second complaint was made by a Ricky Taylor, who is understood to be  a member of the SNP's Banff and Buchan branch, who alleged financial impropriety.
---
---
An investigation was launched and its findings were subsequently handed over to the Scottish Procedures and Public Appointments (SPPA) committee.
SPPA convener Bill Kidd said: "The committee is unanimous in the decision reached on the complaint. It agrees with the findings in fact and conclusion of the commissioner that there is no evidence to suggest that Peter Chapman's actions amounted to paid advocacy, as prohibited by Section 4 of the Code of Conduct for MSPs and by the Interests of Members of the Scottish Parliament Act.
He added: "While the member did advocate on behalf of ANM Group in his capacity as an MSP, we agree with the commissioner that there is no evidence to demonstrate that Peter Chapman – whose shares in ANM Group are of a fixed value – agreed to act on behalf of ANM Group in return for, or in expectation of, receiving a payment or benefit in kind from them.
"In addition, there was no evidence of a connection between the member's action and the level of interest due to him in respect of his shareholding."
Mr Chapman said he was pleased with the findings and hoped to move on from the row.
He said: "Stepping down from my front bench role was one of the hardest decisions I have ever taken, but I believed it was the right thing to do.
"I did not want the proceedings to impact upon the rural brief at such an important time when unimpeded scrutiny of this SNP government is required.
"I hope a line can now be drawn under this and I can get on with representing the people of the north-east, something I have always been very passionate about."
Meanwhile a Tory Party source claimed the complaint was "politically-motivated" and "mud-slinging" from the SNP's Banff and Buchan branch.
A source said: "There is no doubt this complaint was politically motivated.
"It was nothing more than mud-slinging from the SNP branch in Banff and Buchan.
"Peter was clearly acting with the best of intentions to help north-east farmers – something the SNP has singularly failed to do."
A SNP source said: "Peter Chapman was caught red handed in a lobbying scandal and forced to resign in disgrace.
"It was an utter humiliation for Ruth Davidson and her party.
"But the fact is he's just one among many Tory MSPs who think they can abuse the privileged position they hold for their own ends.
"Mr Chapman might have got off on a technicality on this occasion, but voters have now seen him for what he is."