Aberdeen's beach front was transformed into a racetrack yesterday as filming continued for a new blockbuster.
It was lights, camera, action on the three-mile Beach Esplanade stretch of road for the shooting a new psychological thriller entitled Marionette.
The road was chosen by the crew as it is wide enough to film a high-speed chase scene without closing off major trunk roads.
Yesterday a police car was spotted in a fast-paced pursuit of a BMW racing towards the beach leisure centre.
Although it is understood that the famous North Sea will not feature in the film.
With the enforcement hot on their tail the driver of the dark beige estate car suddenly swerved to the right darting off a slip-road heading towards the back of the links golf course.
The esplanade was closed for most of the day and the scene repeated again and again in order to get that perfect shot.
---
---
Production crews have been spotted all over the Granite City for the major production, which features Peterhead actor Peter Mullan and Thick of It star Rebecca Front.
Principal photography started last month in Luxembourg before moving to Scotland. The Aberdeen filming is expected to continue until December.
Residents and business owners were also treated to another car chase scene being filmed on Maberly Street and Charlotte Street.
Rosemount Viaduct, Skene Street, Summer Street and Shore Lane have also been used as backdrops for the psychological thriller.
Plot details are being kept under wraps, but it involves a therapist, played by Dutch actress Thekla Reuten, who loses her grip on reality when a 10-year-old boy claims he can control her future.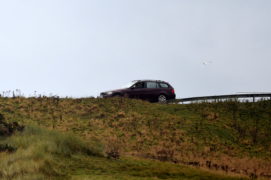 But some Black Friday shoppers were unamused by the antics as a major through road was closed.
George Street and Harbour councillor Michael Hutchison said the scheduling of the shoot could have been improved- but welcomed the high profile attention for the Granite City.
He said: "The scheduling could perhaps have been coordinated better but it's not often we have films shot in the city."
Film location manager Ed Smith said previously that had the short stretch not been closed a major trunk road would have had to be.