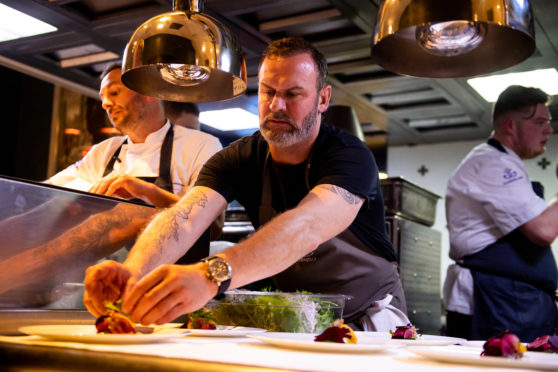 A charity which cares for sick babies has received its biggest ever donation after kind-hearted diners at an Aberdeen food festival rallied to raise almost £250,000.
The Friends of the Neonatal Unit was set up in 1984 when a small group of parents got together with the aim of thanking the Aberdeen Maternity Hospital medics whose talents had helped their infants.
The charity was chosen to benefit from Signature, the only fine dining festival in Scotland, when it was recently staged at the city's Chester Hotel.
During the 12-day programme, leading chefs rustled up a series of mouthwatering menus much to the delight of north-east foodies who showed their gratitude by digging deep for the worthy cause.
And it has now been revealed that the event cooked up a record sum for the Friends of the Neonatal Unit – which has been handed £239,000.
The charity's head of fundraising, Katie Watters, said the money would be ploughed into facilities at the new Baird Family Hospital when it opens as a replacement for the maternity hospital in 2021.
She said: "We are incredibly grateful for the huge amount of support we have received from The Chester Hotel.
"The amount raised is unbelievable and will be used to greatly improve the new Baird Family Hospital facilities."
Signature also featured a display by master chocolatier William Curley and entertainment from singing star Beverley Knight.
Chester Hotel owner, Graham Wood, said next year's instalment would be "bigger and better", and would strive to attract people from across Scotland.
Chefs who took part included Glynn Purnell, known to fans as the "Yummy Brummie", Michelin Star-winning Edinburgh chef Martin Wishart and the first Indian chef to be awarded a Michelin Star, Atul Kochhar.
Mr Kochhar, who has appeared on TV shows such as Saturday Kitchen and the Great British Menu, explained that the north-east charity had championed a cause "close to his heart".
He said: "My daughter was born critically ill and she wouldn't have survived without Great Ormond Street Hospital.
"Anything and everything that comes my way where I'll be able to help children, I just do without even thinking.
"So, when I was asked if I could help Friends of the Neonatal Unit, I said yes."
The Friendly Access disability charity also benefited from the event, with £12,000 being added to its coffers.