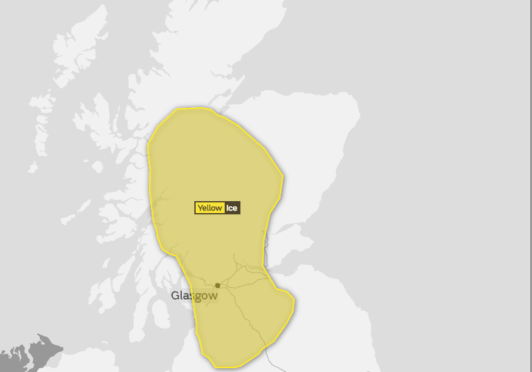 A yellow weather warning for icy conditions has been issued today as forecasters predict temperatures to plunge in many parts of  Scotland.
The Met Office has advised auction due to the dangers posed by slippery pavements and cycle paths, and urged drivers on untreated roads to be careful of frosty surfaces as the first big freeze of December sweeps across the country.
The coldest areas are expected to be in higher elevations on the central Highlands, as well as parts of southern Moray and western Aberdeenshire.
Chilly conditions have also been forecast around the central belt and further south towards the borders.
Temperatures have been forecast to dip to -2C in areas such as Braemar, Tomintoul and Dingwall late this evening.
Thermometers are also expected to dip below freezing around the north-east, at -2C in Alford, and around -1C in regions closer to coastlines including Turriff and Ellon.
Further north, snow and sleet has been forecast for this afternoon in parts of the Highlands, such as Ullapool and parts of Caithness.
The West Coast, Western Isles, Orkney and Shetland are forecast to enjoy slightly warmer conditions this evening, and tomorrow temperatures are predicted to be as warm as 6C in communities such as North Uist, 4C in Kirkwall and a chilly 3C in Kirkwall.
A spokesman for the Met Office said: "Following rain or showers, clearing skies and easing winds at the end of the night will allow ice to form quite quickly in places.
"This is likely to make for some potentially hazardous conditions to start the working week."
The chilly weather is predicted to continue tomorrow evening and into Wednesday, with similarly freezing cold temperatures expected in higher elevation areas such as the central highlands, as well as across Moray, Aberdeen, Aberdeenshire and their coastal communities.
But the Met Office has predicted Thursday will bring back warmer weather across Scotland's coastlines, with thermometers forecast to reach as high as 6C during the warmest parts day in Aberdeen and Peterhead in the north-east, and as high as 9C in South Uist, and 7C in Portree in the west.