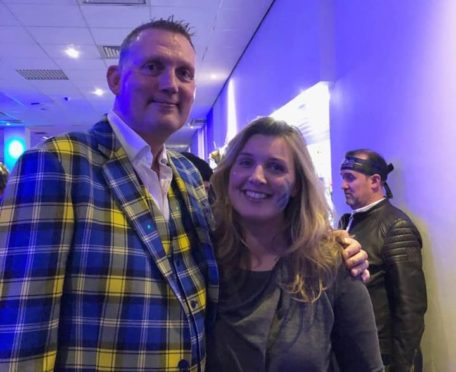 A group of Stonehaven residents have raised an "amazing" £85,000 for one of Scotland's greatest rugby players' charity foundation.
The fundraisers, who named themselves STRIVE, raised the money for Doddie Weir's My Name'5 Doddie foundation by holding a series of events and sponsored challenges.
Set up by Willie Tulloch and his wife Jane; STRIVE smashed its initial fundraising target of £75,000 through a series of events including a sponsored Scotland-wide cycle, local rugby tournament and a charity ball.
The My Name'5 Doddie Foundation was set up by former Scotland rugby internationalist, Doddie Weir after he was diagnosed with MND in 2017.
He set up the charity in order to raise funds for research into the causes of the disease, while making grants to individuals suffering from it to enable them to live as fulfilled lives as possible.
Mr Tulloch, who met with Mr Weir at Murrayfield following the Scotland versus South Africa Autumn test held last month, said the response he had received from everyone at the My Name'5 Doddie Foundation had been "fantastic".
He added: "Doddie and all of his supporters were incredibly grateful for what managed to raise over a relatively short space of time, thanks in no small part to a huge amount of support from Scotland's rugby community, from Orkney to the Borders.
"Meeting Doddie in person at the end of the campaign, having caught up with him in Melrose during our cycle at the beginning of our efforts, was pretty special.
"He is such an inspirational character and has demonstrated incredible bravery and great integrity since revealing he had MND. We are just pleased that the funds we have raised will go some way to help those suffering from the disease and that the work we've done has hopefully helped raise the profile of the cause."
Commenting on STRIVE's fundraising efforts Mr Weir said: "Willie and the team up in Stonehaven set themselves a really ambitious fundraising target, so to have not only reached it but actually surpassed by such a significant amount, is an amazing achievement.
"Everyone at the Foundation is incredibly grateful for everything that STRIVE has done, not only in terms of generating much needed funds, but also for helping raise awareness of the charity throughout the North-east of Scotland and beyond.
"We would like to thank them for a fantastic effort.  The monies raised will go to supporting people with MND and to help find a cure."