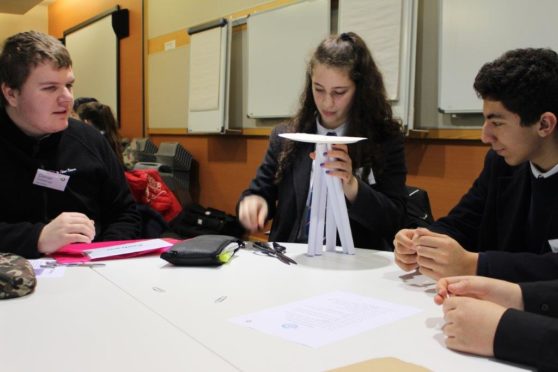 More than 70 pupils from across the north-east have been using their maths skills to tackle challenges in the oil and gas industry as part of Techfest's 'Maths in the Pipeline' programme.
Maths in the Pipeline features three interactive events for secondary pupils throughout November and December, with the final taking place on Wednesday.
Pupils from S3 and S4 worked together for a day of mathematical workshops and challenges whilst receiving advice from industry professionals throughout the event.
The programme introduced the global oil and gas industry before the competitive challenges started and pupils put their maths skills to the test through a series of tasks.
They were faced with a 'Journey to the Centre of the Earth' activity, prompting them to think about geology in a mock scenario that industry experts could potentially face.
In addition to the practical tasks and games, the students had lessons in forecasting, processing, transportation and business presentation skills, highlighting the importance of theory and knowledge behind Maths in the Pipeline.
The programme is sponsored by BP, Chevron, Emerson and SPE Aberdeen Section.
Managing director at TechFest, Sarah Chew said: "The benefit of Maths in the Pipeline is that it allows the pupils to understand that what they learn in the classroom is actually applied to industry.
"These challenges show the advantage to understanding a complex subject and how it can further your career in a variety of roles."
Pupils who took part in the initiative came from Portlethen Academy, Cults Academy, Northfield Academy, Bridge of Don Academy, Aberdeen Grammar School, Dyce Academy, Robert Gordon's College, Fraserburgh Academy, Turriff Academy, Ellon Academy, St Margaret's School for Girls, Kemnay Academy and Aboyne Academy.
For more information, please visit www.techfest.org.uk