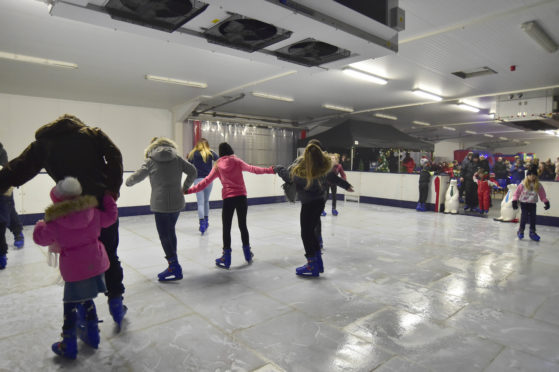 A north-east town has been transformed into a winter wonderland with the creation of its very own ice rink.
Despite being in the middle of preparations for his annual package tour, Santa flew into Fraserburgh to open the attraction yesterday.
The iced arena at the port's fish market has been set up as part of the annual festive celebration Frozen Fraserburgh.
The port's Super Saturdays group and Rotary Club have teamed for the Christmas extravaganza, which kicked off last night and continues today.
In addition to an ice rink, there will also a snow globe with free transport being offered to take people from the town centre to the fish market on Harbour Road.
Local fundraisers worked throughout the year to find £15,000, so they could stage the event for the town.
Frozen Fraserburgh chairwoman Ann Bell is delighted that the organisation's efforts have paid off once again.
She said everything on offer was free of charge, because they did not want any children or adult missing out on the family friendly event.
Mrs Bell said: "We have an ice rink and a snow globe where children can get their photographs taken.
"The whole community have got together for this and it has been amazing.  It has actually galvanised the whole town.
"We just want children to have fun."
A number of stalls have been set up in Saltoun Square to offer late night Christmas shopping and music is being provided by the port's Salvation Army band.
Alison Noble, co-ordinator of Fraserburgh Super Saturdays, said their aim is to attract as many people into the town as possible.
She added: "We're absolutely delighted with the volume of stall holders.
"We've got one or two charity stalls, some local crafters and a lot of food on offer.
"This is all about encouraging folk to come into the town centre and stay there to shop."