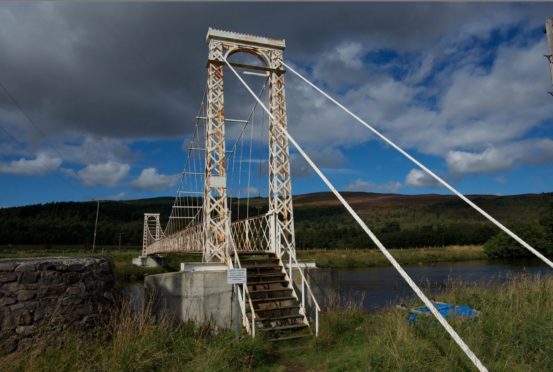 A popular walking route on the outskirts of Ballater will once again be open to locals and visitors next week due to the repairs of an historic bridge being completed.
The B-listed Polhollick Suspension Footbridge over the River Dee, was extensively damaged during Storm Frank almost three years ago, and is part of the Seven Bridges walking route.
The area's infrastructure was hit hard by severe weather and flooding during the storm, with 288 bridges requiring essential repairs.
Priority was given to bridges carrying motorised transport, before attention turned to damaged footbridges.
Of those, Polhollick and Cambus O'May bridges near Ballater in Royal Deeside were among the worst hit.
Over the last few months Aberdeenshire Council's Bridges Section has been working with contractor Moray Blast of Mosstodloch to carry out the essential repairs.
Bridges manager, Donald Macpherson, said: "Due to the historical significance and listed status of the bridge, all the existing damaged steelwork was straightened as far as practicable, in order to maintain the original character of the bridge.
"The repairs have involved the careful application of heat to distorted bridge members, together with the use of hydraulic jacks and winches to ease them back into alignment.
"Therefore, only very minimal replacement of some missing latticework on the upstream bridge parapet has been necessary."
This work has now been successfully completed and the bridge will reopen at mid-day on Monday, December 10.