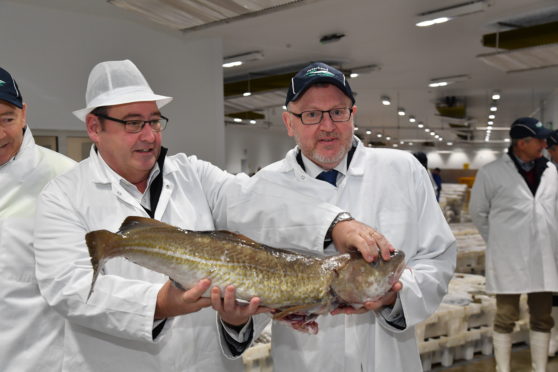 The Secretary of State for Scotland yesterday visited the north-east to pledge £16 million for the Scottish fishing industry and propose the fight for fishing rights be enshrined in law – but his words failed to convince the region's fisherman.
David Mundell's "watertight commitment" was to have come ahead of a vote on the Brexit deal – only for that vote to be delayed by Theresa May.
The MP's pledges had already been met with skepticism by trawlermen and those purchasing the day's catch at Peterhead Fish Market.
While acknowledging the potential benefits of a good deal, they admitted to having been left confused by the various statements being made and said there would be no clarity until a final decision is taken on Brexit.
During his visit, Mr Mundell said that in a post-Brexit UK, there would be a £37 million funding package available to the UK's fishing industry, with Scotland entitled to £16.4 million.
He said the money would assist the sector through the transition while leaving the European Union.
---
>> Keep up to date with the latest news with The P&J newsletter
---
Proposed changes to the UK Government's Fisheries Bill would also place a legal obligation on ministers to fight for a better share of fishing opportunities than the current Common Fisheries Policy deal.
By encasing this vow in law, he said ministers would aim to secure a higher fishing share, overhauling the current system based on fishing patterns from the 1970's.
Between 2012 and 2016, about £540 million of fish was netted annually by other EU members fishing in UK waters.
In comparison, British boats working in EU territories caught around £110 million each year.
Mr Mundell said: "I'm here to announce £16 million which will go to the Scottish fishing industry. which we are committed to help support and develop in a post-Brexit world.
"We also want to ensure there's an obligation in negotiations to fight for fair access and quotas.
"I want to make it clear we've got to get this put through if we're going to be able to leave the Common Fisheries Policy.
"If this deal is voted down there's no certainty over what will happen to the fishing industry.
"This is the only credible option to get us out of the EU and see a positive impact on the industry."
Fishermen in Peterhead were not so enthusiastic.
Stephen Bruce, who buys fish at the market for his business, the Peterhead Fish Company, said: "They're here again to promise the world but no one really knows what's going to happen – at this rate everything could change by tomorrow.
"When you see how the French and Spanish are fighting for their side of the industry, it makes you realise how big it could be here and the impact there could be if we secure a good deal.
"But does anyone really know what the outcome is going to be?
"It's just words at the moment really."
Another fisherman, who did not want to be named, said: "I'm not sure if the funding will help, as the future is so uncertain, but it is a step forward."
Fishing chiefs, meanwhile, were keen to emphasise the possible positive impacts.
Peterhead Port Authority chief executive Simon Brebner said: "It's all to play for. We've got good quality fish and a chance for the sea of opportunity to grow.
"There's a strong feeling of positivity that things can be improved. There's been huge investment in the industry and I think the north-east is ready for it."
Scottish Fishermen's Federation chief executive Bertie Armstrong added: "The SFF welcomes the strengthening of the Fisheries Bill and the commitment of extra resources for the sector to aid the UK's transition to an independent coastal state and beyond.
"Particularly pleasing is the rejection of French President Emmanuel Macron's suggestion that existing shares of fish be maintained post-Brexit and the establishment instead of a platform for annual negotiations to move towards much fairer shares."