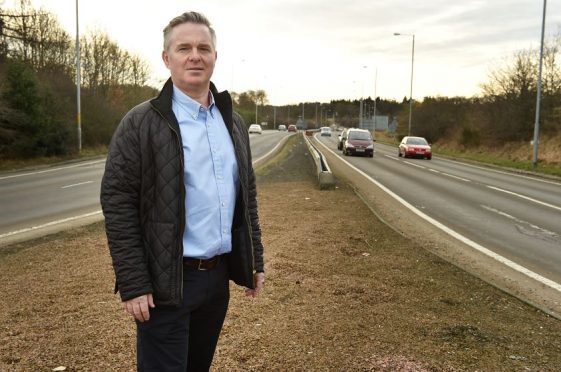 A north-east MP has renewed calls to improve safety on a "terrifying" crossing used by schoolchildren.
Gordon MP Colin Clark wants street lighting and footpaths to be installed along the newly dualled A90 Aberdeen to Ellon road at Bridgend, Tipperty.
Residents at Bridgend, Fornety and Tarty have always had to walk across the main road to reach the Tipperty bus stop, but since the road was dualled in August, they have faced a 45-minute trek with "much faster" traffic going by.
Mr Clark has again called for Transport Scotland to install street lights to heighten driver awareness and improve pedestrian safety.
He said: "School kids are expected to get off the bus and cross over – the traffic going past is 70mph.
"There's no street lighting. It's unbelievable, I think most people would find it unbelievable."
Mother-of-two Kelly Mann, from Bridgend, said she now drives her son to school because it's "not safe to cross that main road" and feels the community has been "forgotten about".
She said: "On dark nights you can't see the bus stop at all, and you are taking your life in your own hands trying to cross the dual carriageway."
At nearby Blackdog, 11 miles south of Tipperty, residents have also spoken out recently about feeling cut off from the public transport system.
One resident, Edna Booth, 85, says she can no longer go to doctor appointments or go shopping after the village bus stop was moved further away from her home onto the new A90 slip road.
A spokesman for Transport Scotland said: "The safety of the trunk road network is under constant review.
"However, we will investigate the concerns raised."