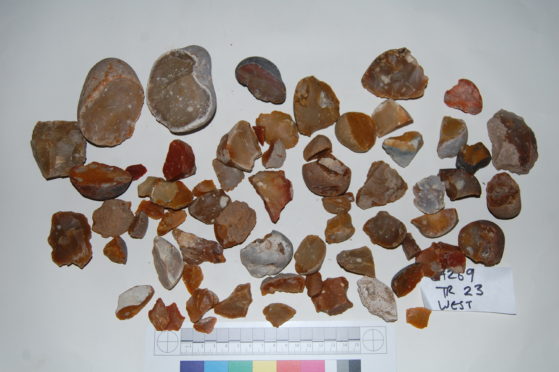 The north-east has a reputation for chilling the bones of its residents, but flint found in an archaeological dig has revealed the landscape now home to Peterhead may once have been in the midst of a glacier.
Excavations undertaken in 2015 at Greenacres, Wester Clerkhill, unearthed 697 pieces of Buchan Ridge flint.
The rocks found were identified as the same type mined by Neolithic people between 3,000 and 6,000 years ago.
Finding such a large collection of the material in that area left researchers convinced the rocks must have been lifted from the ground and moved to the site by a glacier.
Previously, it had been thought that Peterhead was relatively ice-free during the last Ice Age but that position has been challenged in recent years.
This latest research adds weight to the theory it was in fact the site of a glacier.
The findings are contained within a report published this week by archaeologist Alison Cameron and lithics specialist Torben Bjarke Ballin.
Ms Cameron, who conducted the dig – which consisted of 29 trenches – said: "I quickly realised it was an important site as there were many pieces of flint.
"I collected it and then gave the pieces to Torben so he could date it.
---
>> Keep up to date with the latest news with The P&J newsletter
---
"Unfortunately there was little evidence at the site of the people who once lived there that could help us to date the flint.
"It's likely any evidence has been removed by farming on the land over the last hundreds of years.
"We do, however, believe the flint dates back to the Neolithic period, which was between 2,500 BC and 6,000 BC – so three to six thousand years ago.
"Flint was found in many different places, is very hard and can be made very sharp – even when it's found now it's still sharp.
"People used to travel to Boddam to gather flint to make into tools to farm the land."
The erratic source of Buchan Ridge flint found at the site, which is directly east of the A90 between Meethill and Richmondhill on the west side of Peterhead, shows it may not have been solely due to human movement.
Flint tool specialist Torben Bjarke Ballin said: "This seems to be from the mid to late neolithic times as the techniques used were very sophisticated and the others who used it were Neanderthals.
"One interesting detail we got out of the assignment is that the type of flint is what the Neolithic people mined and what this tells us is that this was from the Boddam area and carried away by a glacier and dumped when it melted."
The research has been published on Archaeology Reports Online.
Ms Cameron added: "It's great the paper is now out.
"I enjoyed the digging and Jan Dunbar did wonderful drawings of the flint."
Mr Ballin added: "It takes time to get to this stage so it's great to see the paper out now."