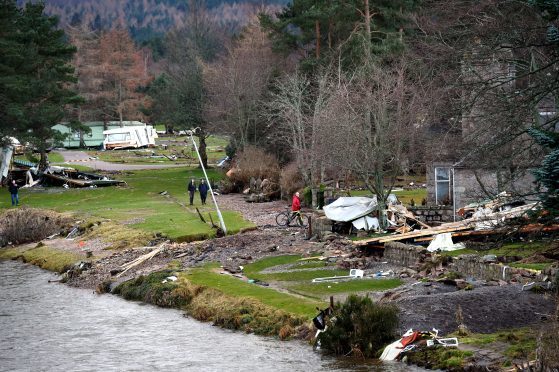 Flood-hit communities in the north-east have been left "high and dry" by the Scottish Government's draft budget.
Hundreds of people were forced to flee their homes while scores of businesses were left badly damaged by the severe floods brought on by Storm Frank in winter 2015-16.
And Aberdeenshire West MSP Alexander Burnett had called for extra funding to be made available for communities like Ballater and Kemnay, which are at risk if there is a repeat of such severe weather.
But he was told by Finance Minister Derek Mackay there would be no additional cash made available.
He asked Mr Mackay: "Can the cabinet secretary explain why he is proposing that spending on the prevention of flooding will decrease in real terms while so many communities remain at risk, including several in my constituency."
The minister responded by saying the amount currently spent on the Scottish Government's flood strategy is "satisfactory".
After the budget vote, Mr Burnett said: "If the Dee and Don flowed through the central belt, I think people would suspect there would be more help for people in places like Kemnay and Ballater.
"I found Mr Mackay's answer insulting to residents and flood management groups across Scotland, who are asking what the government are going to do before the next big storm event hits.
"The UK Government handed him an extra £950 million for this budget.
"The onus is being left to councils – even though he gave them no money to fill the gap.
"Our towns and villages are being left high and dry as a result."
A Scottish Government spokeswoman said: "This budget protects and promotes the quality of Scotland's air, water environment and soils on which our economic and social well-being depend.
"We will maintain our investment in flood forecasting and warning, protecting communities and businesses from the devastating impacts of flooding.
"We are investing £420 million over 10 years to protect homes in many of Scotland's most flood-prone areas and supporting Sepa, councils, Scottish Water and the public to fulfil their flood risk management responsibilities."