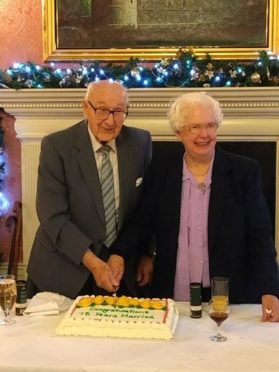 As a bashful young farmer, Jim Stuart had to be jostled into asking Margaret Thain up for a dance at a north-east village hall in 1943.
The encounter proved to be love at first sight and a besotted Mr Stuart soon found himself cycling 16 miles every week to see Miss Thain while they were courting.
The duo, both 96, have now marked the astounding milestone of reaching their 75th wedding anniversary – a feat accomplished by fewer than one in a million couples.
The pair attribute their long-lasting marital bliss to a spirit of "give and take" and say that "never looking back at things you can't change" has kept them happy.
They also reckon the secret to a successful marriage is simply "to enjoy life".
The country was in the grip of the Second World War when the pair met at the social gathering in Cornhill.
Mr Stuart had cycled from his family farm in Portsoy to dance the night away, while his soon-to-be partner had come from the farm she shared with eight siblings at Glenbarrie, near Knockhill.
They have since told the family that Mr Stuart "needed a push" to ask his future-wife to dance.
The two quickly became inseparable, with Mr Stuart cycling out to see her in all weather and they were married at Cornhill in 1943.
The wedding ring cost £2 – which was "an awful lot of money for them" at the time.
Their granddaughter, Trish McDonald, said the relationship was formed "just as people were beginning to socialise again" after years of war.
She said: "That had a big effect on them. They were mindful that money was hard to come by.
"My granddad had tried to sign up but didn't get to go to the war so was left at home to mind the farm.
"My granny was born and brought up on a farm too, so they had that in common."
The couple moved to Redhill Farm near Rothiemay after their wedding.
They had three boys in the years that followed, who all helped with the farm.
The pair moved to Huntly about 30 years ago, after retiring, and found time for new hobbies such as gardening.
The pair still live independently in Huntly, next door to one of their sons, and now have seven grandchildren and five great-grandchildren.
More than 30 well-wishers packed into the Castle Hotel in the town to celebrate the anniversary on Saturday.