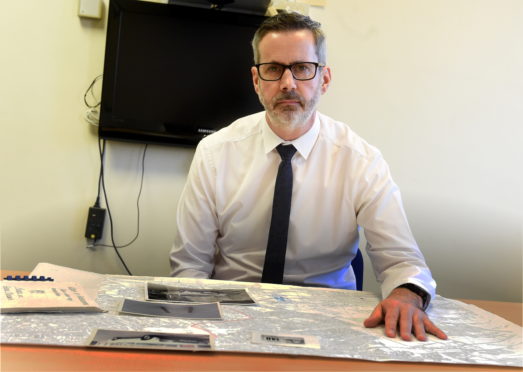 It is a time of year where many people miss loved ones that are no longer with them, while cherishing those who are.
However for some, there is also the pain of never knowing what happened to their family or friends, who were cruelly taken from them with the person responsible still to be caught.
The police's major investigations unit is charged with trying to find an answer for these families.
There are a number of high profile cases in the north of Scotland, some which date back almost half a century.
Most recently, the unsolved cases of murdered taxi driver, George Murdoch, and the disappearance of Highlands woman Renee Macrae and her three-year-old son have both hit the headlines.
There is a National Homicide Governance Agency which looks at cold cases and decides if a review or a full re-investigation.
In 2015, the agency called for the latter in the case of Brenda Page, a young academic who was found brutally murdered in her city flat in 1978.
And in July, Riasat Khan was locked up for the murder of Kazi Ahmad, in Rosemount, Aberdeen, almost 40 years prior.
---
>> Keep up to date with the latest news with The P&J newsletter
---
Detective Inspector Gary Winter is based in the north-east division's headquarters on Queen Street and has been involved in a number of high-profile murder investigations.
He said that the desire to get a result for the families and loved ones of victims remains just as strong, no matter how much time has passed.
"You have to be honest with families and tell them you'll do your best and try and get the best possible outcome," he said.
"However you have to be realistic as well and with the amount of time that has passed it's going to take something significant for there to be a big break.
"Nothing ever goes away, cases stay open, but there is only so much you can do after a passage of time."
But, contrary to popular perception, DI Winter said an in-depth look at the work of his predecessors showed the commitment and effort they went to to try and solve the cases at the time.
"I think we saw that with the Riasat Khan case. The productions that were taken at the time were impeccable and without them it would have been difficult to get a conviction," he said.
"There's a bit of a perception that policing back then was just like Life on Mars, but that evidence had to stand up the utmost scrutiny and not just by 1978 standards, by today's as well.
"There's a lot of hard work going on in the north of Scotland on the George Murdoch, Brenda Page and Renee MacRae and you remain hopeful that there will be a conclusion, but you're going to need a breakthrough.
"I'd appeal for anyone out there with information to read the family statements and see what it means to them, particularly at this time of year.
"Unburden yourself of this information that you have been holding onto and you have done all you can at this point and we will take it further."