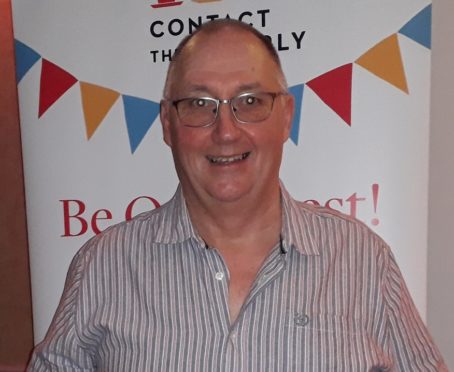 An Aberdeen charity supporter has been recognised for his role in helping to combat loneliness.
John Gall will receive the Marsh Christian Trust Award after acting as Aberdeen organiser for national charity Contact the Elderly.
The organisation, which featured in the Press and Journal's Share the Cheer campaign last winter, is dedicated to tackling loneliness and social isolation amongst older people  in the UK.
This is achieved by offering a vital lifeline of friendship through free and regular social events. And when Mr Gall was made aware through a friend that there might be a delay in establishing a group in the Granite City, he immediately volunteered as the areas co-ordinator.
This involves arranging gatherings for dozens of guests who often live alone, as well as assisting them when in need.
However, despite falling into the role unintentionally, the 60-year old has now been a host and driver for eight years.
Mr Gall said: "I get great satisfaction from my volunteering as I know the good it does for not only the guests but also for the drivers.
"The award came as a pleasant surprise, but I like to think it is for all the volunteers as it's a little awkward being singled out when there are so many people who make our Sunday afternoons happen."
The charity now has more than 130 groups across Scotland, including 12 in Aberdeen.
Caroline Peter, Contact the Elderly's Aberdeen area support officer, said: "John is a fantastic advocate for us in Aberdeen, always looking out for the opportunity to raise awareness and make contact with all areas of life in the city.
"He is a tireless recruiter of volunteers, and often helps guests with shopping and encourages them to attend the parties, making sure they feel comfortable.
"It's clear that he is completely motivated by his desire to help older people."