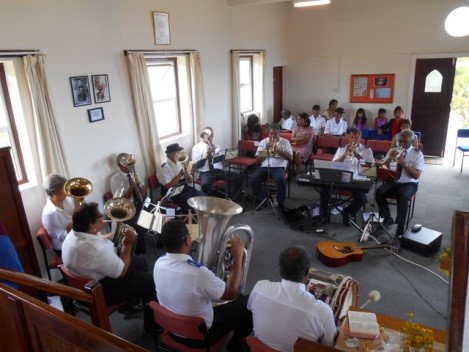 Most of us take the sound of carols for granted at this time of year.
But not everybody has access to musical instruments to help their festive carols go with a swing.
However, a unique partnership stretching all the way from Aberdeen to Cape Town and organised in conjunction with the Salvation Army, is ensuring that township groups are gaining new opportunities to form bands and ensembles.
Aberdeen businessman Douglas Craig, the chairman and managing director of Craig Group, is one of the driving forces behind the initiative and which has already helped hundreds of youngsters throughout the country.
Equipped with cornets, horns, euphoniums and other instruments, bands are thriving in Limpopo, Kwazulu-Natal, the Western and Eastern Capes and in other parts of South Africa and beyond.
Mr Craig also revealed how a group of band members from Johannesburg embarked on a 1000-mile trip to offer assistance to youngsters in Windhoek – the capital of Namibia.
---
---
And he is among those who believe that music can have a positive influence of people from disadvantaged backgrounds and has witnessed plenty of evidence of it at first hand.
He has worked with Gavin Blackwood, a major figure in the Salvation Army in South Africa, to expand the project and said: "I have been involved with the movement since I was a child.
"This all started out with a Salvationist, Douglas Neale, making arrangements to take a group of brass instruments over from Aberdeen to South Africa around a decade ago.
"We helped him to get the items out there and it really seemed to make a difference to the youngsters and things have just moved on from there.
"You only need around five instruments to get a band up and running, and there is a lot of enthusiasm for the idea among the children and young people in the townships.
"At the moment, we have more people wanting to play than we have instruments. That's the opposite of the situation in Britain.
"However, we are doing whatever we can to help and it has had a positive impact on the youngsters."
Lord Provost Barney Crockett expressed his support for the initiative yesterday and praised the efforts being made by Mr Craig and Mr Blackwood.
He said: "Douglas and his colleagues are doing great work over in South Africa and I don't think you can underestimate the affect which ventures such as this can make on whole communities.
"We sometimes take these things for granted. But music is a precious thing and I very much back anything which helps spread that message."