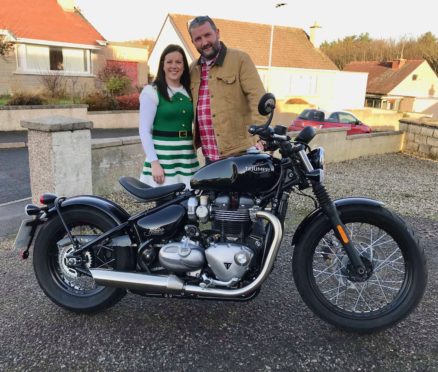 A local woman has won a Triumph motorbike after entering a prize draw in support of an addiction recovery charity.
Lindsay Thomson, from Portsoy, scooped the two wheeled prize on offer in a fundraising draw by charity Teen Challenge North East Scotland.
Launched in July, tickets were sold throughout the year to raise money for the work done by the organisation in helping women at their residential centre Benaiah, near Mintlaw, and men at Sunnybrae, near Fyvie.
Ms Thomson purchased her ticket at Turriff Show on August 6 in support of the charity.
Following the draw at Shirlaws Motorcycles, part-sponsor of the initiative, last Friday, Ms Thomson revealed that she plans to sell the bike as she is not a biker and bought the ticket merely to help the cause.
Gordon Cruden, area manager of Teen Challenge North East Scotland, said: "We're delighted for Lindsay.
"For a ticket costing just £5, she now owns a bike with a retail price of around £10,650.
"Speaking to Lindsay, we know she is going to put the money she gets from selling the bike to good use for her and her family.
"We really are thrilled for her.
"The Prize Draw is assisting us in our continued fundraising aims.
"In recent years, charities across the length and breadth of the UK have felt the impact of austerity measures and we are no different.
"It's vital that we find income streams to continue to help people change their lives."
A new motorbike prize draw will be launched on January 11 to raise more for the organisation.