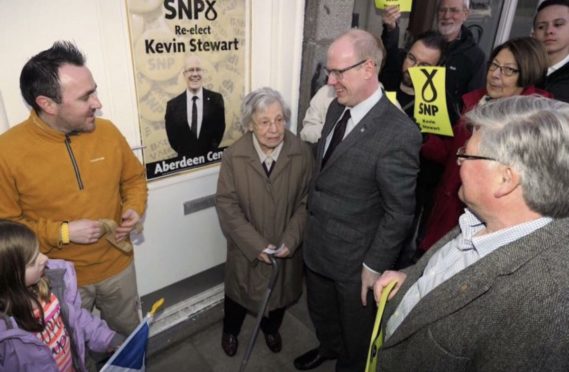 A political campaigner who once played tennis with Fred Perry during a rich and varied life has died at the age of 102.
Marnie Corall was born at Blairdhu, Killearnan, on the Black Isle, on May 26, 1916, to farming parents John Munro and Isabella Millar.
The family moved to Kinnahaird Farm, Strathpeffer, when she was 10 and she went to Contin School and Dingwall Academy.
In the early 1930s she had an unforgettable brush with celebrity when she and her younger sister encountered Fred Perry at the Pavilion tennis courts in Strathpeffer.
Mr Perry, who was just a few years away from winning Wimbledon, was visiting the Highland spa and asked if the girls would like a game of tennis.
Mrs Corall later trained as a children's nurse and became a nanny to a wealthy family in England.
During the war she was conscripted to work as a nurse and nanny for the children of jute workers in Dundee.
She was sent home at the end of the war after a bad attack of arthritis and met her husband Tommy, an Aberdonian veteran, at a dance at the Pavillion.
In the late 1950s, the couple built and opened the Beach Cafe in Rosemarkie and though they "sold more Walls ice cream than anywhere else in the Highlands" they struggled to maintain profits outwith the summer months and eventually moved to Aberdeen in 1961.
Mrs Corall's son, John Corall, explained that his father was a very active member of the SNP during the 1960s and 1970s and that Mrs Corall grew to share that passion.
The former Nationalist councillor said: "Father died in 1991 but mother took over his mantle and interest in politics.
"She maintained that right to the end of her life.
"She was pro European, pro immigration and dearly wanted to live in an Independent Scotland."
Aberdeen Central MSP, Kevin Stewart, said Mrs Corall had been an "inspiration".
"Mrs C was an amazing woman and an inspiration to me," Mr Stewart said:
"I was so chuffed when she agreed to open my campaign office in 2016.
"She took the opportunity to give us all a wee pep talk in her speech about the importance of Independence.
"I also had the great pleasure of attending Mrs C's 100th Birthday party, where her knowledge, humour and pride in her family shone through."