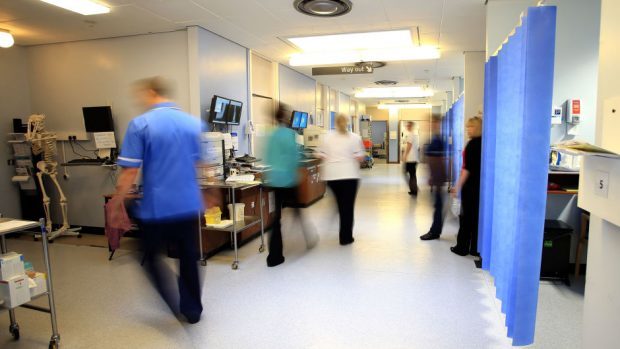 The number of patients waiting for emergency care in the north-east is at a four year high – and has soared by almost 40% since 2015.
New figures have revealed 6,557 people waited more than four hours at accident and emergency departments at Aberdeen Royal Infirmary, Royal Aberdeen Children's Hospital and Dr Gray's in Elgin.
This is the worst performance since 2014-15, when there were 7,844 patients waiting longer than four hours – the standard by which the Scottish Government judges health board performance.
And it is also an increase of about 38% since 2015-16, then there were 4,753 visitors waiting beyond the target.
The figures, published by the Tories, also show an increase of 54% in terms of patients waiting on trolleys for treatment last year after they were admitted – a leap from 909 in 2016-17 to 1,402.
Last night, North East MSP Tom Mason claimed the health service is being "let down" by the Scottish Government.
He said: "There is no question that medics are doing their best to see patients within four hours.
"No one is sitting on their hands. Many people know how stressful an environment A&E can be.
"We already know the numbers of doctors in training have fallen to a five-year low.
"This healthcare crisis is being presided over by an SNP government which has had more than 11 years running the Scottish NHS.
"They are breaking their own targets and failing the people of north and north-east Scotland in the process."
Mr Mason's criticism comes after a recent BMA Scotland member survey, which revealed 97% of medics believed NHS resources were inadequate and affect the quality of patients' care.
The health board has said the most recent figures show that the vast majority of patients at Dr Gray's and the RACH were seen within four hours, 96.5% and 98% respectively.
And at Aberdeen Royal Infirmary – where thousands of people attend A&E every week – 85.5% were seen within the target time period.
Health Secretary Jeane Freeman, meanwhile, claimed the country's core emergency departments were the best performing in the UK for nearly four years now, but acknowledged there were areas where performance "is not good enough".
Ms Freeman said: "We are committed to ensuring that health boards are supported in improving performance and have backed this with an additional £10million this winter – on top of the £9million already allocated to support unscheduled care all year round.
"We have also seen a significant increase in the number of A&E consultants working in Scotland's health service – an increase of 157 whole time equivalent posts since 2007.
"We will continue to drive improvements through our £850million Waiting Times Improvement plan. We are working closely with those health boards experiencing the greatest challenges to support recovery, this includes dedicated external support as well as support from the chief medical officer and national clinical director."