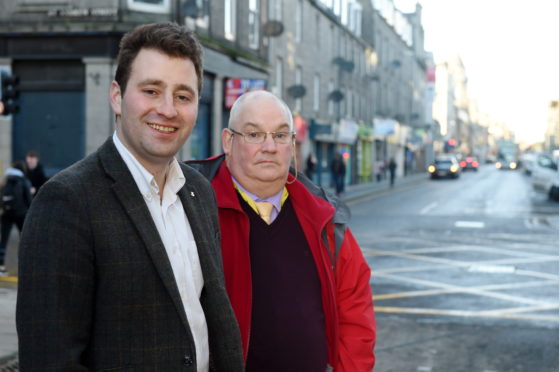 A neighbourhood watch scheme could be set up in an Aberdeen community after concerns were raised about people dealing drugs in plain sight on a city street.
There will be an open meeting on Monday, February 4 to gauge interest in establishing a programme for residents in George Street.
In November, minutes from a local community council meeting revealed the strength of feeling among residents about the impact of crime.
These stated: "As things stand, the dealers are getting away with selling drugs openly, people are taking drugs openly, tenants are reporting drug-dealing, and nothing is being done about it."
---
>> Keep up to date with the latest news with The P&J newsletter
---
Police said at the time they had listened to all concerns, but added that residents must also work closely with the force to eliminate the scourge.
Now, local councillors, Michael Hutchison and Dell Henrickson, have set up the open meeting to find out if residents want to set up a neighbourhood watch initiative.
The scheme allows neighbours to share information about potential criminal activity with each other and pass it on to the police.
In some areas of Aberdeen and other cities, signs have already been attached to lampposts, warning there is a neighbourhood watch in place.
George Street and Harbour councillor, Mr Hutchison said he hoped the scheme would lead to a safer community.
He added: "We have heard from a number of people who have concerns about crime in the area, and this was a suggestion that was made to address the issue.
"There's no 'one size fits all' approach to neighbourhood watches, so I am hopeful that something that works for George Street can be found.
"There are a number of benefits to having a neighbourhood watch including having a safer community and potentially saving on your home insurance. Anyone who lives in the wider George Street area is welcome to attend this public meeting."
George Street is seen an area of expansion as part of the council city centre masterplan strategy. Plans in the works include a massive £100million "urban village" development at the Broadford Works site and expansion of the Bon Accord centre onto the street.
The open meeting will be held on Monday at 7.30pm at Catherine Street Community Centre. Everyone is welcome to attend.