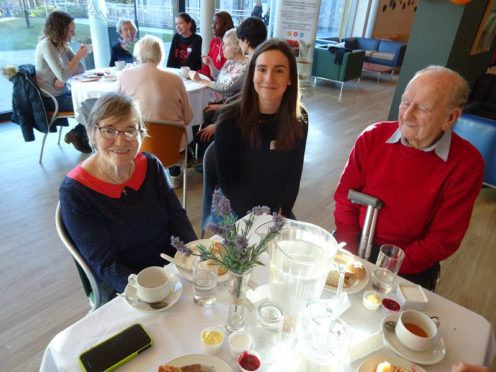 Aberdeen school pupils have entertained lonely pensioners with a tea party after teaming with a charity dedicated to combating social isolation among older people.
Youngsters at the International School of Aberdeen baked scones and learned about the etiquette of afternoon tea as they bridged the generation gap by hosting the unique event.
The pupils, aged from 15 to 18, invited a 20-strong party from Contact the Elderly to join them.
The visitors were treated to a tea party at the school's Pitfodels House premises on the outskirts of Aberdeen.
Students from France, India, Scotland, Germany, Columbia, Brazil, the United States and Nigeria, among others, all played a part in organising and hosting the event.
Val Garry, a teacher at the school, said: "One of the students heard about the charity through a friend of the family and followed it up.
"When we found out more about it, the students jumped at the chance to get involved and thought it seemed a really cool idea.
"Some of the teenagers are away from their grandparents and don't have that contact in their life at the moment.
"And for the guests, it's been a chance to meet a slightly different group of people that they perhaps would not otherwise have the chance to meet."
Contact the Elderly support officer, Caroline Peter, said: "It's the first time we've been hosted by an international school and it was a wonderful event.
"The students had done so much to prepare and make us welcome and to see the interaction between the generations  and nationalities was really inspiring."
The charity is currently looking for more hosts in Aberdeen and would like to hear from anyone willing to welcome guests into their home a couple of times a year.