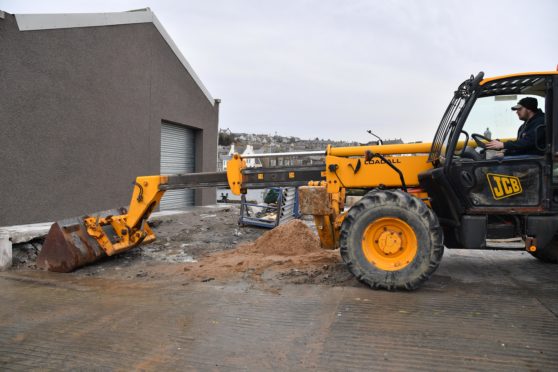 It will be a simple construction, linking three steel containers capable of storing 10,000 litres of water and 10,000 tonnes of ice.
And it will be operated remotely, requiring no stuff other than the occasional maintenance worker.
The new ice plant planned for Macduff Harbour is nonetheless being tipped to reinvigorate the coastal town's fortunes.
Detailed proposals were lodged yesterday after Aberdeenshire Council – which wants to build the plant at the Moray Firth quayside – secured £376,000 from the European and Maritime Fisheries Fund (EMFF).
The rest of the cash for the near £400,000 development came from the local authority's regeneration reserves.
Preparatory work at the site next, next to the town's fish market, is already under way and construction is due to be completed by the end April.
A document submitted alongside the council's plans said the development would provide an economic boost by reducing the time and costs for local boats currently travelling to Fraserburgh for ice.
It is also hoped the facility will encourage new vessels to make use of the harbour.
Officials note: "The ice plant  is expected to have a positive impact on the local economy by encouraging greater use of the harbour by existing fishing vessels as well as attracting some new vessels.
"Access to the ice plant will be restricted to authorised key holders only, with a system of galvanised steel stairs and walkways providing access.
"The plant will be operated remotely with no permanent staff presence.
"Workers will occasionally visit the plant to carry out routine maintenance and assist customers with the delivery of ice."
John Clark, who operates the trawler Reliance II, predicts there will be a major boost to the harbour as a result of having ice readily available.
He said: "I think with the building of the ice facility will only increase the amount of fishing landings in Macduff.
"This is just what the town needs and it is good to see this happening at the harbour.
"A lot of the good work here is down to the harbour master Duncan Mason."