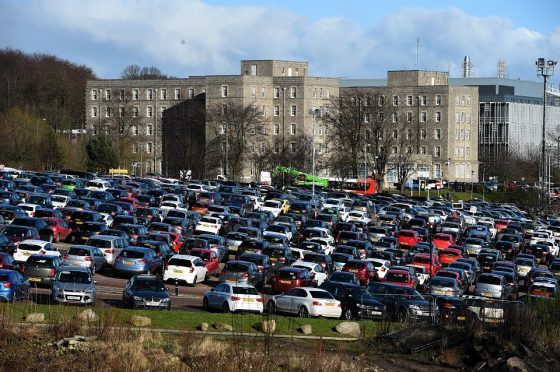 Aberdeenshire and Aberdeen City councils have ruled out imposing a controversial car park tax for the foreseeable future.
Finance Secretary Derek Mackay announced last month that local authorities the option to implement the levy where people would be charged to park at work to generate more income.
Under the plans, employers would potentially be charged for each parking space – but fears have been raised that they would pass these costs on to their employees.
During Aberdeenshire Council's budget debate, administration leaders ruled out introducing the "unrealistic" levy – and just hours later, Aberdeen City Council's co-leader Douglas Lumsden also declared it as a "non-starter".
Aberdeenshire Council's deputy leader, Peter Argyle, said: "We cover a large rural area with limited public transport infrastructure, offering no realistic alternative to people wishing to leave their cars at home.
"Whilst applauding the Scottish Government's commitment to spare any such tax from dedicated staff of the NHS, I believe it fails to recognise the efforts of all public service workers – many of whom are some of our lowest paid staff.
"So is it right to expect our gritter drivers, care staff, teachers, gardeners or school cooks to pay to park at work, when NHS are protected? No. This policy needs much greater consideration and thought before we decide whether to bring it forward as a suggestion for Aberdeenshire."
---
---
Meanwhile Mr Lumsden said the idea was a "non-starter" for a city with a high level of car ownership and would be another "millstone" around the necks of rate payers.
The scheme is active in Nottingham where commuters are charged £415 each year per parking space.
The city council is facing cuts of up to £50million, but the administration said the parking levy was not the answer.
Mr Lumsden said: "The challenges faced by the city this year are immense however it would be completely punitive to consider implementing a parking levy on those who drive to work.
"We want Aberdeen to be open for business and that environment is not helped if the local authority attempts to squeeze businesses through the SNP and Green parking tax.
"Increases in business rates have already hammered the economy in Aberdeen forcing many firms to close putting people out of work. Enough is enough.
"Suggested figures  of £400 a year are eye watering and it would be inconceivable for me to support a budget which put this millstone around the necks of workers across the city."