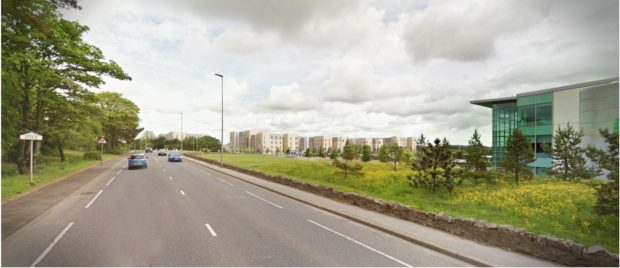 Controversial plans for nearly 300 council homes in an Aberdeen suburb have been recommended for approval.
First Endeavour LLP want to build 283 flats at Wellheads Road in Dyce in four five-storey blocks.
But the plans have proved so contentious in the community, sparking nearly 300 letters of objection, that they were subject to a public hearing last August.
Concerns raised by residents included the potential noise from the nearby airport, the scale of the development, a lack of local amenities, the height of the buildings and potential traffic congestion.
However, the developers argue the scheme would provide much-needed council housing in the area, potentially attracting workers such as teachers and nurses to the city.
A number of changes have been put forward to the application since the public hearing, including reducing the flats from 302 to 293 and reducing the number of blocks from five to four.
There has also been an increase in the number of one bedroom flats and parking spaces, while the height of the buildings will all now be five-storeys.
Council planners have recommended members of the planning committee approve the scheme when they meet on Thursday.
A report reads: "The provision of affordable homes is welcomed and would contribute towards the council's aim of providing more affordable homes as identified in the strategic business plan.
"Additionally, the mix of units proposed has been shaped by the requirements of the council housing waiting list, with specific focus on families.
"Internal noise limits can be achieved, as a result of significant mitigation measures and when measured with windows closed (albeit external noise is generally at the very limit of acceptability). Acceptable external noise levels can be achieved in many of the identified amenity areas, although significant sections would not."