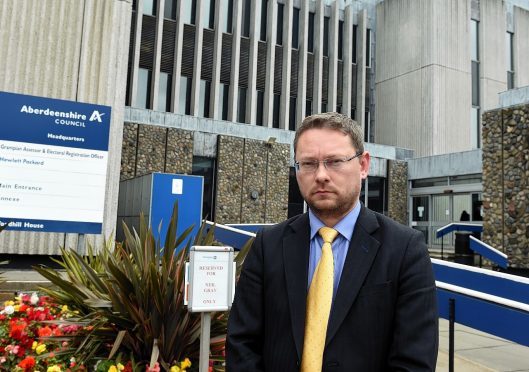 The leader of the largest opposition group in the chamber said he was deeply concerned about the prospect of redundancies.
The SNP-Labour opposition had previously pledged there would be no severance as part of its budget for 2019/20.
The group yesterday unveiled its proposals, which it said protected frontline services and offered "new and imaginative" ways to help ease financial burdens on residents.
After losing the vote, Richard Thomson said his biggest disappointment was that job losses had not been ruled out by his counterparts.
But he said the group had "set down markers" which showed they were committed to supporting the most vulnerable in society.
He said: "Our problem in Aberdeenshire is that we needed to preserve the quality of the services we provide but also retain the capacity to deliver that through the people we have.
"We put in an extra line in our budget to facilitate re-training in order to keep good, hardworking people in the council."
Mr Thomson said the pressures the authority found itself under were not directly correlated to the local government settlement, but were tied more to the growing demand for services and rising cost inflation.
And he told the chamber they had left "no stone unturned" in their search for savings.
The group proposed a 3% council tax increase, similar to the administration's budget.
It proposed a broadly similar package of savings, though the group did propose a number of different investments and also reduced the bus service cuts by £200,000.
Among the spending ideas the group proposed was a £35,000 basic income trial, where the council would be able to manage people on Universal Credit's claims at their request.
A £60,000 investment to set up an autism youth club and £30,000 for an out-of-school hours lunch club were also proposed, together with £100,000 to help re-train people to help bolster the opposition's stance on no compulsory redundancy.
Meanwhile, there was an additional £180,000 proposed to set up a scheme where young people could be involved in the budgeting process.
The second opposition group, Digg, which revealed its plans earlier in the week, outlined a roads "maintenance holiday" to the tune of £5 million – a 17% reduction on the current annual spend.
Other savings which were proposed included increasing school meals costs to save £340,000, cutting opening hours at sports centres to save £250,000, increasing burial charges to save £225,000 and slashing the number of subsidised taxi journeys to save £50,000.
Under their proposals, council tax band D would have increased by £1 per week – adding another £5.78 million to the authority's coffers.