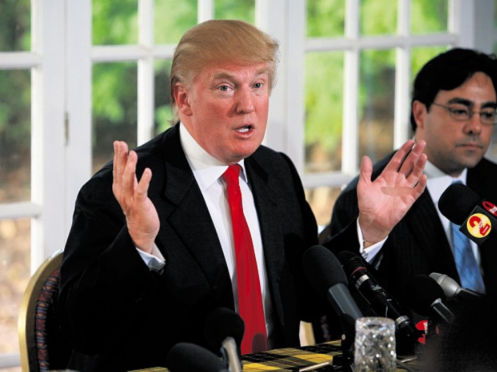 The social media network Facebook has removed adverts for Donald Trump's Scottish golf courses and hotels.
It ruled the ads had breached new transparency rules regarding political advertising and failed to disclose who financially backs promotions.
A total of 117 adverts for 13 Trump Organisation companies were judged to have breached Facebook's new rules.
They were introduced last year following criticism of how the multi-billion-pound company handles misinformation.
The website's systems deemed ads relating to the Trump Organisation were "related to politics and issues of national importance" and not just promoting the company's commercial interests.
Facebook took down three adverts relating to Trump's Turnberry resort near Ayr – though none relating to the Trump International Golf Links in Aberdeenshire – according to the Scotsman newspaper.
The ads for Trump Turnberry promoted special rates at the resort and ran between July 30 and September 30 last year.
They featured photographs of the Scottish hotel's interiors and offered deals on accommodation and food.
Almost 30 promotions for the Trump National Golf Club in Hudson Valley and 20 relating to the official Trump Store in America were also removed.
The ads ran in countries across the world including the US and Britain and garnered up to 823,000 views before their removal.
Facebook's new rules on adverts, which were introduced last year, distinguish political ads as those which are "made by, on behalf of, or about a current or former political party, a political action committee, or advocates for the outcome of an election to public office".
The social media giant was unable to confirm exactly why the adverts were pulled, but one contributing factor that has been suggested is the Trump name being present in each of the organisations which were targeted.
Earlier this week, Donald Jr, the eldest son of the American president, said Facebook and other social media organisations were trying to "systematically stifle the viewpoints held by half the country".