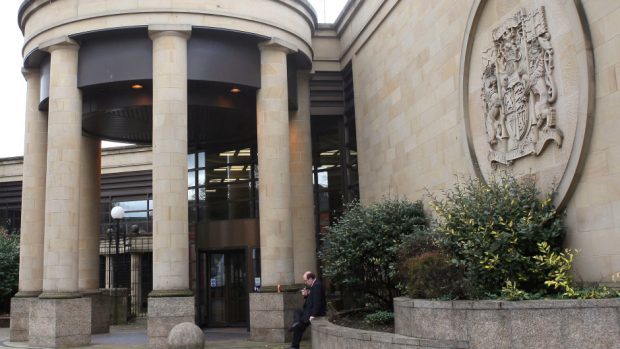 A man who discharged himself from a psychiatric hospital two days before killing his best friend has been sent to the State Hospital without limit of time.
David Reid stabbed 53-year-old Mark Johnston at least 120 times because he believed the Devil told him to.
At the High Court in Glasgow Dr Duncan Alcock, a forensic psychiatrist, from the State Hospital, Carstairs, said Reid, who suffers from paranoid schizophrenia and bipolar disorder, would "present a serious risk to the public if he was at large".
The attack took place in Reid's flat in Broughty Ferry, on October 20 2017.
Reid, 46, was found not guilty of killing Mark Johnston by reason of insanity.
Judge Lady Rae said: "This is a very tragic case both for the family of the deceased and for you and your family, Mr Reid."
She ordered he be detained on a compulsion order and a restriction order.
Two days before the killing, Reid took a taxi to the Royal Cornhill Hospital in Aberdeen and asked for treatment. Two days later, he discharged himself.
Defence QC Ronnie Renucci said: "He had been asked to give a further blood test. He didn't want to do so and said he wanted to leave.
"At that time the opinion was that he did not meet the criterion of compulsion order and he left on that day."
In the days leading up to the death, Reid told family members and medical professionals about his delusions that "demons" were trying to harm him.
Two days after discharging himself from hospital he phoned his sister and confessed he had stabbed his friend to death, after "shredding" his jugular vein with a kitchen knife.
Reid was covered in blood when he answered the door to police.
Mr Johnston was lying dead in a large pool of blood on the living room floor.
Reid told police: "The Devil told me I had two hours to stab him.
"He was my only friend. I can't believe what I've done. I stabbed him. What will his family think?"
Before the lethal attack, Reid told a psychiatric nurse in Dundee he was "receiving messages from God".
A decision was made to admit him to hospital and two NHS Tayside staff then escorted him in a taxi to Aberdeen, because no psychiatric beds were available locally.
Reid was able to discharge himself shortly after admission – after a consultant decided that he didn't meet the criteria for compulsory treatment.
The court heard an inquiry is under way into the circumstances surrounding the case.