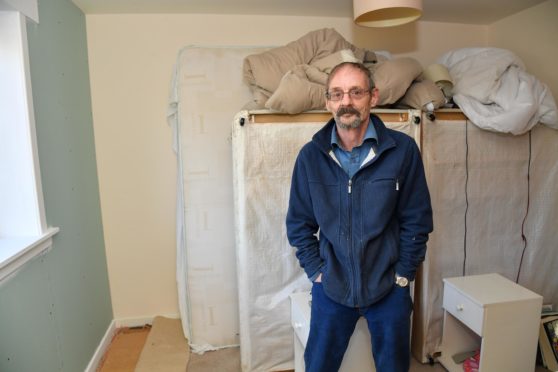 An army veteran says he has been forced to sleep on his living room couch due to a mix-up over repairs being carried out in his home.
Kevin Baxter, who served in the military police for 22 years, lives in a one-bedroom council house on Manse Place in Boddam which has been riddled with damp for over five months.
The 68-year-old first reported the moisture in his bedroom and living room to Aberdeenshire Council in October.
He said he was initially pleased with the prompt response when workers repaired the front room of the property, and was told work would begin on his bedroom on February 25.
---
>> Keep up to date with the latest news with The P&J newsletter
---
Mr Baxter moved all of his furniture from the bedroom on Monday so there was room for them to carry out the work and took up residence on the sofa.
But he said he had to call the council when no-one turned up at his home that day.
He said: "I was told then that I was wrong and it was meant to be the 26th but yesterday a plasterer turned up – he was here before the joiner had even arrived.
"The joiner came yesterday, investigated the walls, put up new plaster board and then left.
"This morning the council sent the painters out to me before the plasterer came back.
"So I called the council to ask what was going on and they said the plasterer will be round on the 18th of March.
"My bedroom has been ripped apart so I'm sleeping on the couch which isn't good for an old person like me and I've asked if they can't get it sorted like they had originally arranged but they've said there's nothing they can do.
"They don't seem to care what's happening to their tenant – they don't give a monkeys."
After retiring from the army Mr Baxter worked as a carer for his late wife who had cancer.
He added: "I know they're cash strapped but it's about time they got their act together."
An Aberdeenshire Council spokesman said: "We scheduled a programme of work for the property this week, and masonry, joinery and plastering activity has been completed.
"Painting is scheduled to take place today.
"We have made efforts to minimise disruption and have kept to schedule, and will be conducting a follow-up inspection to ensure that the damp issue has been resolved."