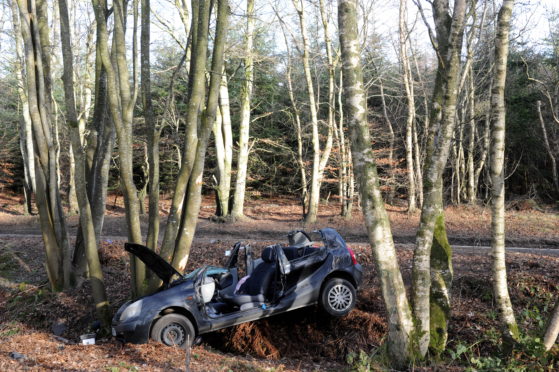 The driver of a car that careered down an embankment and hit a tree has died from his serious injuries.
Arkadiusz Kostecki, from the Fraserburgh area, died on Tuesday, 10 days after the serious crash on February 16.
He was driving the black Renault Clio when it came off of the A981 Strichen to Brucklay road about a quarter of a mile from Strichen Community Park on February 16.
The 48-year-old was rushed to Aberdeen Royal Infirmary after being cut from the vehicle along with his 23-year-old passenger, who suffered serious neck but non-life threatening injuries.
Mr Kostecki was said to have serious head injuries at the time of the incident.
Fraserburgh councillor Doreen Mair paid tribute to Mr Kostecki.
She said: "It's a tragedy for everyone concerned, it's awful to hear.
"I'm sorry Mr Kostecki has succumbed to his injuries.
"My thoughts go out to his family at this really hard time."
Central Buchan Councillor Norman Smith was also saddened by the news.
He said: "It's bad to hear of accidents but it's even worse when someone is killed as a result.
"I'm really sorry to hear about the driver's death and I extend my sorrows to his friends and family.
"However, I'm pleased to hear that the passenger is on his way to making a full recovery."
Witnesses to the crash described seeing seven police cars and three ambulances arriving at the scene.
Fire crews from Maud and Fraserburgh spent nearly an hour trying to cut the two men free from the car before they were taken to hospital.
Sergeant Colin Matheson, of the road policing unit, said: "Our thoughts are with the family and friends of Mr Kostecki at this very sad time.
"Inquiries into the incident continue and I would urge anyone with information who has not yet spoken to the police to get in touch by calling 101."