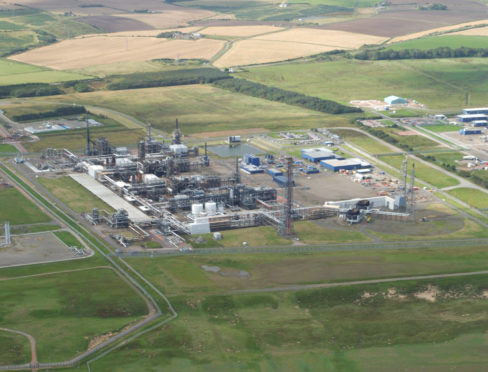 Locals living near a north-east gas plant have been issued letters warning them a routine spring clean could cause a pungent pong.
Later this month one of the vessels used to contain a stinking but harmless gas will be cleaned and removed from the Shell-operated gas plant at St Fergus.
In preparation for the spring clean of the container, locals have been notified they may detect a noticeable whiff from the operation.
Efforts are being to ensure that does not happen, but it is possible the smell could be detectable for up to 72 hours.
A letter from the Shell St Fergus plant manager, Steve Morrice, has been sent to all properties nearby to make residents aware and explain that measures to minimise the stench are in place.
It states: "I would like to make residents and neighbours aware that we are planning some maintenance work on site that includes the cleaning and removal of a vessel.
"This vessel was used to hold Mercaptan (odorant) which is a harmless but pungent-smelling gas that is often added to natural gas, which is colourless and odourless, to make it easier to detect.
"During the cleaning process, there is the potential that you may smell a gas odour."
---
Keep up to date with the latest news with The P&J newsletter
---
Mr Morrice writes that steps have been taken to "fully control" the smell during cleaning work but adds: "Should you smell anything while we are carrying out this procedure you should follow your normal procedures for reporting a gas leak.
"I can reassure you that this is an essential part of the plant's maintenance programme and we aim to minimise any disturbance.
"We have planned carefully for steady operations during the work."
At the St Fergus complex there are four sites operated by Shell, Ancala, PX and National Grid.
It plays a key role in maximising the value of the North Sea's resources as a gas processing and Natural Gas Liquids extraction plant by removing certain components such as ethane and then delivering them to the National Grid or via pipeline to an extraction plant in Fife.
A Shell spokesman said: "We have issued a notice to let our close neighbours know that work to clean out a tank at the St Fergus plant may cause an odour.
"It is to reassure people nearby and let them know we aim to minimise any bad smell."
The routine work will begin on Monday March 11 and will last up to three days.