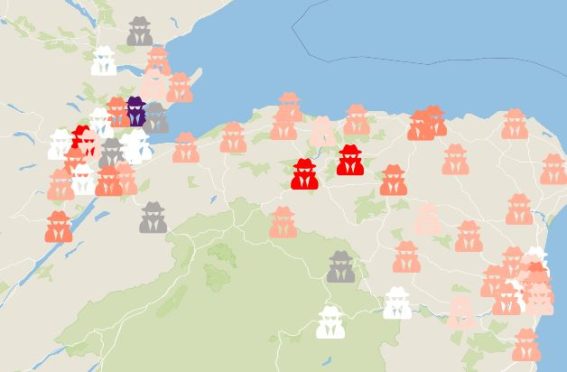 The number of sex offenders living in the north and north-east has soared by more than one-fifth in just three years.
Figures obtained by The Press and Journal show there are currently 820 people listed on the Violent and Sex Offender Register (Visor) in the area – up 21% from this time in 2016.
This includes 524 in Aberdeen, Aberdeenshire and Moray and a further 296 living in the Highlands, where the number of register sex offenders (RSOs) has rocketed by 29%.
Alongside these figures, police have provided a breakdown of the postcode areas where each person is currently living.
The Invergordon area, or IV48, tops this list with 2.4 RSOs per 1,000 population, while Aberlour, Gairloch, Keith and Dingwall followed.
However officers refused to hand over all of the information requested – fearing that, particularly in rural communities, even a rough postcode address could lead to members of the public identifying those on Visor.
The force says allowing RSOs to live without fear of people attempting to "out" them – and in some cases assaulting them or damaging their property – will let them lead more stable lives and make them less likely to re-offend.
A spokeswoman said: "The disclosure of the number of offenders in primarily smaller communities would lead to the individuals concerned being identified.
"This is particularly true where it is reasonably likely that a determined person would use the data in conjunction with other demographic information which exists in the public domain."
Children's charity NSPCC Scotland said the P&J's figures show the need to do "everything possible" to protect young people from abuse.
A spokesman from the organisation said: "Sexual abuse can shatter a child's life and leave them feeling ashamed, depressed, or even suicidal.
"It's vital police are given all the tools they need to effectively monitor child sex offenders in the community.
"Protecting children is everyone's responsibility and the NSPCC's Helpline is available 24/7 to anyone concerned about a child's safety, while our Speak Out Stay Safe service teaches primary school pupils how to stay safe."
---
Keep up to date with the latest news with The P&J newsletter
---
A spokeswoman from Rape Crisis Scotland, which campaigns against sexual violence, said: "A rise of 17% in the number of registered sex offenders in the north and north-east of Scotland over the past two years is significant.
"It is crucial that public safety from remains paramount in the ongoing management and monitoring of perpetrators of sexual crimes."