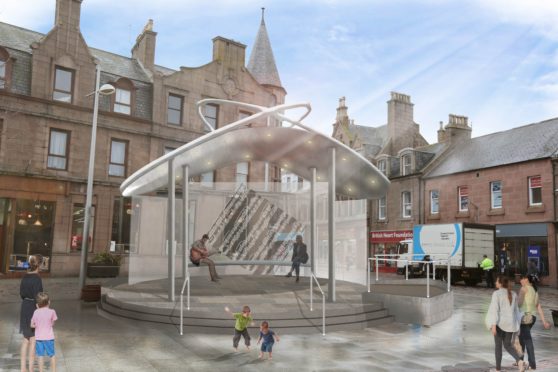 The search to find a contractor to lead the £210,000 redevelopment of Peterhead town centre is on.
Aberdeenshire Council is looking for a firm to head-up the revamp of Drummers Corner.
As part of the works, the spot will be upgraded with an atrium installed as a focal point.
Plans of the new artistic Drummers Corner were unveiled in September.
Councillor Norman Smith, chairman of the Buchan Area Committee, is confident the project will be welcomed by locals and give the town centre a much-needed boost.
He said: "This is something we've been working on for quite a while and we just need to get the work over the line and get it done.
"Basically we're at the stage of finding someone to do the work and then it's a case of pushing on and commencing with the job."
---
>> Keep up to date with the latest news with The P&J newsletter
---
Peterhead South councillor Stephen Calder, who walks through Drummers Corner regularly, feels locals have been waiting for the plans to become reality.
He said: "It has been very slow progress but I'm pleased it's finally going ahead.
"There have been delays in the way and now it thankfully looks like there's steps to get the work going.
"The redevelopment will make a big difference to Drummers Corner when it's done.
"We were trying to look for something that would catch people's eye and become a symbol for the town.
"It's so unique and innovative.
"Designers looked around the world to see if there was anything like the new drum and they've not found anything so it will be one of a kind."
Christine Webster, the council's regeneration and town centre's manager, said: "We are pleased to bring this bespoke design to the tender stage.
"We very much look forward to having a much more functional public space, a modern design to be proud of and for use by the whole community.
"There are many technical details behind the scenes that go into these schemes, but we believe it is a good project for a contractor and will deliver benefits to Peterhead town centre for years to come."
It is hoped the project will be completed this summer.