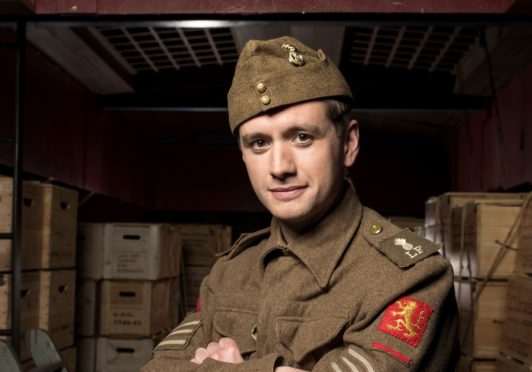 One of the stars of a remake of a classic 1940s movie will return to the north-east village in which it was filmed.
The 2016 version of Whisky Galore was shot in and around Portsoy and featured Rab C Nesbitt actor Gregor Fisher and comedian Eddie Izzard.
Sean Biggerstaff, who played Sergeant Donald Odd, has now now pledged to boost the coffers of the Portsoy Boat Festival in advance of this year's event.
He will be the guest speaker at a dinner at the village's Station Hotel next month.
Mr Flagstaff said he was looking forward to returning to the coastal community where he was welcomed with open arms.
He said: "I remember the filming of Whisky Galore in and around Portsoy as one of the best times of my life, both professionally and personally.
"A huge part of this was how helpful and welcoming the local people were. We were there for a little under four weeks and it felt like a whole summer.
"I think the warmth and joy we all felt being there is evident on the screen and is a crucial part of the film.
"I can't think of a better way to come back and visit than to attend the fundraising dinner for such an important cultural event, and I am absolutely delighted and honoured to have been asked."
Keith Newton, the festival's co-chairman, said: "We are delighted that Sean will be attending the dinner and very much look forward to hearing about his interesting and varied career."
Proceeds from the dinner go towards funding the operational costs of the festival, which takes place this year on June 22 and 23 in Portsoy.