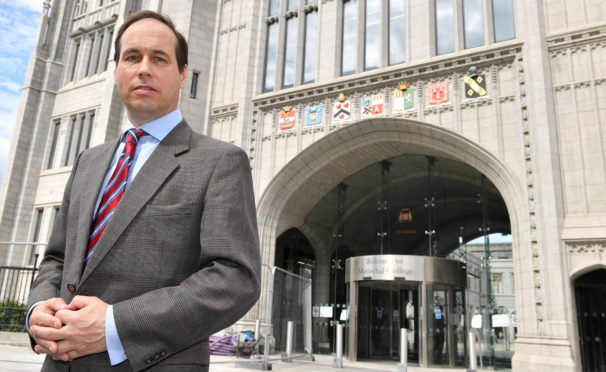 The number of sick days needed by Aberdeen's teachers because of stress has skyrocketed, sparking renewed calls for them to be given more support in the classroom.
Shocking new figures released by the city council reveal 2,486 days of absence since the start of term back in September.
That is up 60% on the same period in the last academic year and equates to every teacher taking the equivalent of two days off for stress-related illnesses.
It is also the highest figure recorded for the period in the past five years.
With 11 weeks of teaching time still to go before summer, it is expected to rise even further.
The issue of stress levels in schools is one which has been gaining prominence in recent months.
In January, the EIS union revealed that more than three-quarters of Scottish teachers were feeling anxious in the classroom "frequently" or "all of the time".
Many attribute this to an excessive workload, combined with stagnating wages and an ongoing recruitment and retention issue.
Schools are also frequently reporting incidents where teachers are being attacked by children in the classroom – either physically or with makeshift weapons and furniture – including hundreds every year in Aberdeen.
And with a growing number of staff members feeling their stress levels are too high to set foot in their schools, calls have been made for them to be offered more support.
Martin Greig, the city council Liberal Democrat group's education spokesman, said the figures were sadly "not surprising".
"The pressures that teaching staff experience are immense," he said.
"Not enough is being done to consult with schools to find out what can be done to help.
"Teachers deserve to be listened to and there has to be more support and guidance to improve the present situation."
Aberdeen City Council said it already offers a range of services to help teachers struggling with their jobs.
Education convener John Wheeler said: "We utilise a range of approaches to support the mental wellbeing of our school staff.
"This includes counselling services, stress risk assessment training for head teachers and a range of wellbeing initiatives."
---
>> Keep up to date with the latest news with The P&J newsletter
---
"We are not complacent, however, and always look to improve and review our approaches to help support our staff."
The city council figures show that the number of teaching days lost to stress are at their highest for at least the last five years.
While they dropped to a low of 1,354 days in 2016-17, the figure for this year so far is more than double that.
The previous high was 2,207 days recorded in 2014-15.
Ron Constable, joint secretary of the Aberdeen EIS branch, says further action must be taken.
He said: "The most common complaints we receive from teachers are excessive workload, children showing challenging behaviour and covering vacancies.
"It's good that there are resources including counselling but that's like shutting the barn door after the horse has bolted.
"We need to be getting to the root of where the stress is happening and investigate that."