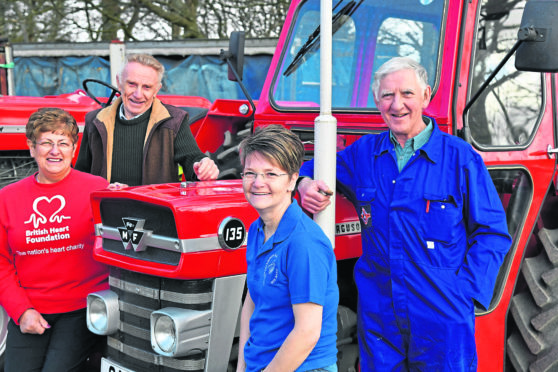 A group that raised more than £16,000 in honour of a north-east tractor enthusiast has handed over the money to a charity and local organisations.
The annual Sandy Thain Memorial Road Run has been held each October in memory of the Strichen man, who died in 2014 at the age of 75 after suffering from the rare disease amyloidosis.
In recent years, his family and friends have arranged the annual vintage tractor and classic vehicle run in his memory.
The event became a popular fixture every October on the local calendar.
But it was decided that last year would be the final time the vehicle procession would take place.
On a wet and windy day last October, 37 tractors and 11 cars trundled along the roads as collection buckets were shaken to encourage donations and a fundraising raffle took place.
The final event raised £2,350.
Those funds were last night handed over to representatives from the British Heart Foundation, the Fraserburgh Royal British Legion Pipe Band and the Strichen Town Hall Renovation Committee.
The latter had a special significance as it was where Mr Thain ran the local army cadets group.
Organiser Jane Ironside was there alongside the family and helpers to hand over the cash.
She said: "Since the first run in memory of Sandy, which was held in October 2014, was done to raise funds for Amyloidosis research, the run has since donated to the Sandpiper Trust, the air ambulance and Fraserburgh ambulance depot.
"Various cancer charities and the Strichen branch of the legion, of which he was chairman for many years, have also been given donations.
"Sandy was also a past chairman of Banff and Buchan Advanced Motorists, and his friends from the group helped out at the runs and donated the proceeds of their Christmas raffle each year.
"Due to the generosity of businesses, entrants and sponsors from far and wide the run has raised almost £17,000 over the years.
"The first run was meant as a one-off but so many people asked for it to be repeated the following year, and it snowballed from there.
"After organising five events, we decided to call a halt to the fundraising and enjoy our retirement – and attend rallies and runs organised by other people."