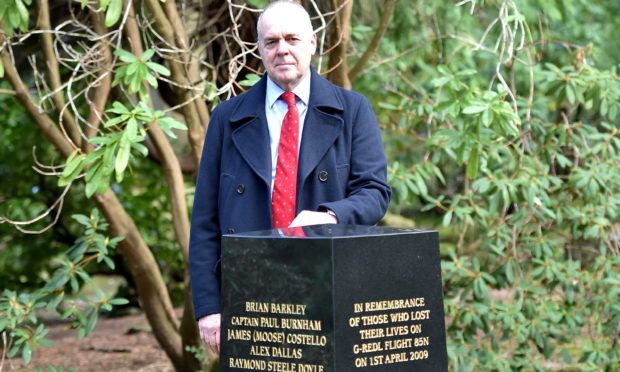 An Act of Remembrance will be held today for the 16 men who died in a helicopter tragedy off the coast of Peterhead.
The service marks the 10th anniversary of the loss of Super Puma helicopter flight 85N, which crashed on April 1, 2009, killing all on board.
Reverend Gordon Craig, Chaplain to the Oil and Gas Industry, will be leading the service held at the memorial garden for the crash within Aberdeen's Johnston Gardens at noon.
Around 150 friends and family are expected to attend the service, where a two-minute silence will be observed after a poignant piper's lament.
Speaking ahead of the service, Rev Craig said: "For many of the families ten years is just another anniversary in an ongoing day-to-day situation – their loss can feel as raw as it did that day.
"Their worlds changed forever in 2009 on that terrible day and they are continually coping with the loss of someone who was dear to them.
"As time passes they may find ways to cope with that loss – but at the heart of the matter is that they wake up to this reality every day of their lives.
"The old adage that time is a great healer can feel wrong sometimes. I think time just helps us cope.
"To provide a space for them to remember that in a tranquil space is important and ultimately it is good to remember – you don't want to forget.
"But to stand and remember in this busy world with other people who also went through a similar loss and also want to remember is very supportive."
Wreaths will be placed at the memorial by Lord Provost of Aberdeen, Barnet Crockett, Deputy Provost of Aberdeenshire, Ron McKail, and Oil and Gas chief executive Deirdre Michie OBE.
Last night Mrs Michie said: "As we mark the 10th anniversary of the tragic Super Puma helicopter crash in the North Sea, our thoughts remain with the families, friends and colleagues who lost loved ones that day and we will never forget them.
"This anniversary serves as a stark reminder that we can never be complacent about ensuring safe operations in our industry.
"The safety of our people has to be at the heart of all that we do, day in and day out, 24/7, because we all need to be able to go home safely."
A private ceremony will also be held later today for the families involved and the death of David Stephenson will also be remembered.
Mr Stephenson, 44, was crushed to death on board the Wellservicer about three miles from Aberdeen Harbour on April 1, 2009 – the same day as the Super Puma helicopter disaster.
The poem The Sea and the Beach, by Tessa Wilkinson which has been adopted by the industry for memorial events, will be read by Rev Craig.