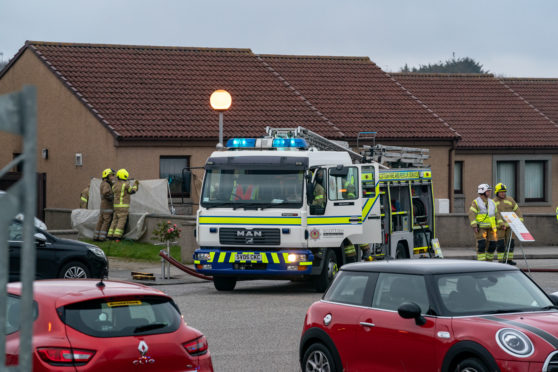 A delivery driver has told how he battled in vain to save a man from his burning home.
Emergency crews were called to the blaze at the Redwell Court cottage in Whitehills at about 6.30pm on Saturday.
A 50-year-old, named locally as Christopher Cowie, died at the scene.
David McKay was passing by when he saw flames coming from one of the houses in the sheltered housing complex.
He tried to get inside the property with two other men but they were beaten back by thick smoke coming from the fire inside the building.
The trio were left unable to get inside and reach the man who lived in the small cottage. He was later pronounced dead at the scene.
A joint police and fire brigade investigation is now underway to determine the cause of the fatal blaze.
Mr McKay leapt into action after he spotted flames and smoke billowing out of the property.
The 55-year-old was carrying out takeaway deliveries for a Banff-based eatery when the fire broke out.
He said: "I was driving by when I saw smoke out of the corner of my eye.
"I looked over and saw flames in the front window.
"A girl came running out of another building and phoned the fire brigade.
"Another man turned up but we couldn't get inside for the smoke.
"It is something I would not want to witness again."
Yesterday, two police patrol cars were parked outside the boarded up property and the back garden had been cordoned off with tape.
One of Mr Cowie's friends said he was saddened to hear of his death.
He said: "He was someone looking to get involved in the community and his heart was in the right place."
The home is part of Aberdeenshire Council's Redwell Court sheltered housing complex which is made up of 16 self-contained flats and four linked cottages.
Last night a spokesman for the local authority said: "This is clearly very sad news and our sympathies go out to the man's family and friends.
"We will assist wherever we can in the investigation and are ensuring the safety of neighbouring residents while offering them support and assistance."
Banff and district councillor Glen Reynolds said his thoughts were with the family of the man who died.
He said: "Our thoughts and prayers are with the friends and family of the victim at this tragic time and we have to thank the emergency services who did what they could."
Detective Inspector Michael McKenzie said police were now trying to determine the cause of the fire but added there were not thought to be any suspicious circumstances.
He said: "A joint investigation will be carried out with the fire service to establish the cause of the fire but at this stage there do not appear to be any suspicious circumstances.
"As with all sudden deaths a report will be submitted to the procurator fiscal."