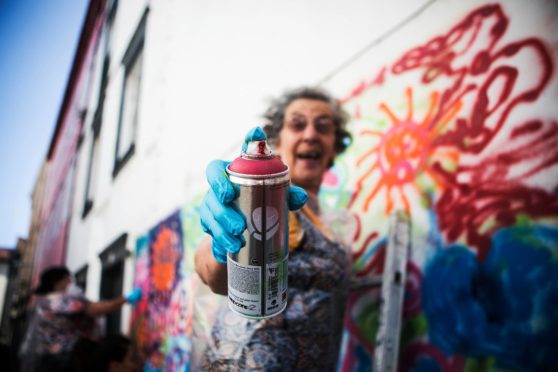 Spray can-wielding pensioners are to prove age is just a number as they prepare to take over Aberdeen city centre for a major street art festival.
Eighteen north-east residents have been picked to take part in LATA 65 – Young At Art, the UK's first graffiti street art project for pensioners.
The group, aged between 65 and 82, will be led by internationally renowned Portuguese curator and architect Lara Seixo Rodrigues.
The project is part of Nuart Aberdeen, the popular public art festival which is in its third year.
Participants said they had varying reasons for taking part in the new project.
Francis Blore said: "I'm recovering from cancer surgery and this is something to take my mind off it.
"I'm from South Africa and I've lived here for 20 years or so, and I would love to think that in a little way I've left my mark on Aberdeen."
While Anne Yule said: "I applied to do this because I felt I needed a bit of a push, to stop being so safe with art, and to get out of my comfort zone.
"I think the image of graffiti is changing, some of the artwork you see done by spray can is absolutely fabulous."
And Dorothy Bothwell said: "Nuart has certainly made its mark on the city, and I think the fact they are now encouraging diverse groups to get involved is wonderful.
"Especially those over 65, who may not always feel they've got something to offer."
Rosemary Kemp added: "I just loved last year's art and think it's a great idea to let us oldies have a go."
LATA 65 emerged as a challenge to stereotypes relating to pensioners and to promote active ageing.
It was also set up to bring senior citizens closer to a form of artistic expression usually associated with younger people.
Over the course of Wednesday, April 17 and Friday, April 19 participants will take part in a workshop and learn all about street art, starting with its roots in activism and graffiti.
They will then be let loose on a wall in the city centre to produce their own lasting piece of work.
Nuart founder Martyn Reed said: "Nothing I've seen comes close to the genuine authenticity and passion that's built into LATA 65.
"We've met so many enthusiastic senior citizens in Aberdeen and we can't wait to see how they respond to the project."