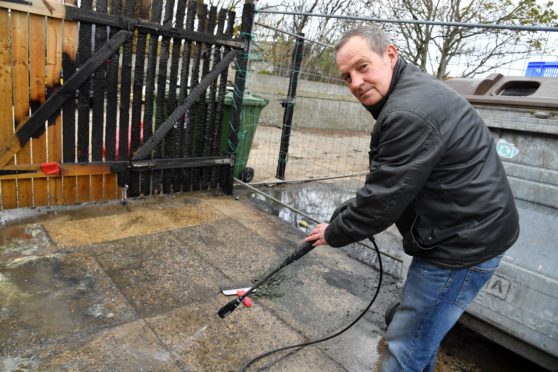 The owner of a north-east takeaway damaged by deliberate fireraising has called on those responsible to stop before someone gets hurt.
Thousands of pounds worth of damage were caused to neighbouring Whitehills businesses the Rockfish Takeaway and the Retreat Hair and Beauty Salon at the weekend.
The blaze took hold in "suspicious circumstances" at around 5.45am on Saturday after it was deliberately started behind the premises.
Police and fire investigations are still underway but James Pirie, owner of the Rockfish Takeaway, said it was not the first time local businesses had suffered in such a fashion.
He said: "We've not had the report back as to how it was started but from our point of view there's between three and four thousand pounds of damage.
Appeal after fire started deliberately near north-east businesses
"We have oil bins, waste bins, recycling bins all destroyed and our outdoor shed has sustained some damage as a result of the heat. That all needs replaced.
"The fence behind the building has also been destroyed and will need to be replaced as well.
"We're not happy about it and I believe from the interviews that this isn't the first time something like this has happened in the area.
"This needs to stop. People need to be more careful or someone will get hurt."
Mr Pirie rushed to the takeaway on Saturday morning fearing the worst, but found the fire was already out and fire crews had helped to limit the damage.
Mr Pirie said: "It could have potentially been much worse as we have waste oil out the back.
"I'm not sure of its burning temperature, but had that caught alight it would have been a different ball game altogether.
"We don't know who did this – whether they are local or not, young or not – but there could have been people injured.
"Two local businesses could have been put out of business, affecting the owners and their employees.
"Thankfully that hasn't happened and really it has been more inconvenient than anything else – though a little costly too – but you don't expect anything like this in a small village.
"We have CCTV out front but we're now looking at installing cameras at the back too."
Police say it was lucky the blaze was discovered when it was.
Sergeant Scott Murray, who is leading inquiries and labelled the damage "completely unacceptable", added: "This incident is being treated as a wilful fire-raising.
"I would encourage anyone with information to please get in touch as soon as possible.
"Incidents of this nature are extremely rare in the community and won't be tolerated."
To report any information call police on 101 or Crimestoppers anonymously on 0800 555111.